Everyday Australians are entering the property market blindfolded, unaware that the decisions they're making today could cost them big bucks down the track.
Blogger: Paul Wilson, Educating Property Investors, We Find Houses and We Find Finance

Would you gamble away your greatest asset by putting it all on black in a game of roulette?
It's a shocking reality, but this is what some property investors are doing – metaphorically speaking.
And seeing as there are more than just peaks and troughs in the property market, I'd more so liken property investing to a game of blackjack rather than roulette.
Here's the truth: everyday Australians are entering the property market blindfolded, unaware that the decisions they're making today could cost them big bucks down the track.
My intention isn't to scare you off or make out that property investing is a difficult task, because it's not – but it does require a broad range of knowledge, an eye for detail and a commitment to long-term goals.
There's no doubt that your odds of succeeding in property investment are increased with property education.
Whether that's through self-education, online courses or a hands-on approach, if you want to do well in the world of property investment my advice is to learn from others' mistakes through education first.
Let's put it into perspective: you get your $16 haircut at the hairdresser because you know that you'll (hopefully) get a better result from them rather than John in your office. Reason being, they've been educated, trained and are experienced in their field.
If you were going to let someone else invest, say $400,000 of your money in property, wouldn't you want them to know what they're doing?
Now put yourself in that same position; do you trust yourself enough to make the right decisions without the proper 'training'?
Investing without property education is a gamble of your time and money; investing with property education is like insurance when the dealer draws a face-up ace.
Education of any kind is an invaluable asset that stays with you throughout life, and can be applied in many different ways to achieve a desired result.
The knowledge you acquire before you put your money on the table could just save you a costly mistake down the track.
This post originally appeared on www.wefindhouses.com.au
About the Blogger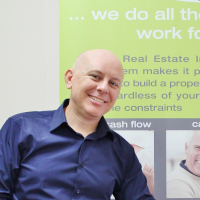 Paul Wilson is an Independent Property Investing Expert who's been educating and coaching investors since 2001. Author of 7 Deadly Mistakes Property Investors Make and How to Avoid Them, he also manages www.educatingpropertyinvestors.com.au, www.wefindhouses.com.au, and www.wefindfinance.com.au. 
Through his books and websites, Paul provides valuable, independent guidance and support by teaching strategies on how you can invest successfully, while protecting yourself from the common mistakes that trap many investors from reaching their full potential.
Paul doesn't promote cookie cutter strategies, instead he demonstrates how you can create wealth as a property investor regardless of your budget, location, strategy and risk profile. Paul makes his home on the Gold Coast and spends his leisure time enjoying adventures, surf and sun with his wife and five children. Protect and grow your portfolio with knowledge. Contact Paul today for a complimentary consultation: 1800 690 890 and ask for Paul, or email paul@wefindhouses.com.au.
Top Suburbs
Highest annual price growth - click a suburb below to view full profile data:
latest news