David Brewster, Where to buy when capital cities are too expensive
Download Video: MP4,
David Brewster, Buy Property Direct, Where to buy when capital cities are too expensive
Property investors who have been priced out of the capital city markets can still find good investment opportunities if they know where to look.
If you're an investor who feels priced out of the capital city markets, I wouldn't worry too much. In my opinion, capital cities can be a little bit over rated. A lot of construction going on, over flooded markets, high buy in prices, and low returns. For example, in a Melbourne market if you take a South Melbourne or Port Melbourne area where there's a lot of development; your buy in for a 70 square metre 2 bedder, 1 bath, that will run you about $600 000. Your $600 000 investment will probably get you $500 a week return and both areas would grow at about 3 1/2%. If you go further out, say a 30-50km radius, look at an area like Carrum Downs for example, your buy in for a three bedroom, double storey townhouse, 2 bathrooms, double garage - that'll be about $380 000. It'll get you about $380 a week and the growth in that area is 7 1/2%. So it's not as sexy an area but the numbers are very attractive.
Listen to other instalments of The Smart Property Investment Show:

Episode 70:
Special episode: buyer's agent answers more listener questions
Episode 69:
Are you a 'lazy' investor? Consider the benefits to working with a financial team
Episode 68:
Special episode: audience discussion live from the Property Buyer Expo
Episode 67:
Don't get 'caught up in the now': an expert reveals his tips for success
Episode 66:
Wealth distribution: how should you manage your money?
Episode 65:
Real estate agents: what separates the good from the bad?
Episode 64:
How this investor learned from a property blunder
Episode 63:
Q&A session: the SPI team answers your questions
Episode 62:
Property procrastination: the importance of finding help
Episode 61:
The ins and outs of strata: what buyers should consider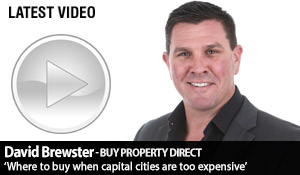 Written by

Staff Reporter