Finding the 'perfect' property investment location doesn't have to be an elusive goal. There are only three things you need to look for. 
Blogger: Victor Kumar, director, Right Property Group 
Buoyant job markets drive growth in property values
It might seem obvious now that you are reading this, that buoyant job markets drive growth, but how many investors really look at the job market in an area where they consider investing? A lot of investors, especially if they are new to investing, will start their research by looking at property type and their budget (i.e. how much they can afford). They will, of course, look at particular areas but their area selection is often based on somewhere they know, or a place that someone tipped as a hotspot.
Professionals in the property industry who spend their working lives sourcing property for potential buyers (e.g. buyer's agents and buyer's advocates) understand the importance of a buoyant property market to drive growth. If there is strong employment in an area and new businesses drawn there, then people looking for work will migrate to these areas. Why? Because they will all need somewhere to live. Many will rent first of all to make sure the move is right for them, so your investment property in such an area will be less likely to experience long or regular vacancies, while all the time its value is growing.
Long-term employment is the key
The type of employment in the areas where you consider investing should not be one-industry towns that rely on a single project or industry to offer work to residents. This is a high-risk strategy because if this industry has a downturn, people are laid off and they move away leaving property empty and difficult to sell. The ideal area is one that shows signs of attracting a range of businesses and the new retail, schools, leisure facilities and infrastructure that are necessary in a growing community.
The ripple effect
If you think you have missed out on an area that has strong employment, look at the surrounding suburbs and think about how far people are willing to commute.
A suburb or area just 30 to 40 minutes' drive away from an employment hub may have slightly cheaper property prices. If there is good public transport in this area too then you could be onto a winner.
It all starts with employment. People need to find work to pay rent or a mortgage, and finding these areas can seem daunting. You can undertake a fair amount of research yourself by following the business news and searching council websites for infrastructure planning proposals.
These days the old adage of 'invest within a 10 kilometre radius of a CBD' still applies (as that's where most jobs are), except the definition of CBD, in terms of employment hubs, has changed with the decentralisation of businesses, and the ability of people to commute easily.
It is important to recognise this fact, and not stray too far from the employment hubs, but it is equally important not to shy away from metropolitan employment hubs, where there is a greater surety of growth due to supply and demand, fuelled by easily available employment and its flow-on effects.
About the Blogger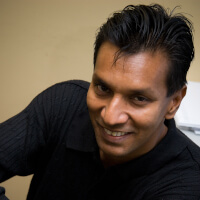 Nearly 15 years ago Victor and his wife came to Australia from Fiji with just $4,500 in their pockets. They worked hard as radiographers but realised this was not the way to prosperity. Victor embarked on a process of building wealth through property. He has amassed a substantial property portfolio, and is still actively buying and renovating property. His recommendations are based on what works in today's market, not what used to be effective a year or more ago.
Victor's experience, finance background, and financial planning qualifications mean he is well equipped to negotiate with banks – helping them find ways to say "Yes". He has also invested significant time and money in learning from other property investment experts and knows how to make a portfolio work.
Of course, Victor has made a few mistakes along the way but these have made him wiser – and he'll let you learn from his mistakes so you don't need to make them. His goal is to help you achieve your financial goals by sharing his extensive knowledge about financial structures and investment property.
Victor is now sought after as a keynote speaker at several property investment seminars and is acknowledged by his peers as an expert in the industry.
Top Suburbs
Highest annual price growth - click a suburb below to view full profile data:
latest news