Investing in Sydney - enough with generalising in the Sydney property market.

Blogger: Edwin Almeida, Managing Partner, Just Think Real Estate

I received a phone call from a property investor based in Perth, looking to sell in Sydney. The conversation went as follows.
Investor: Edwin I was referred to you by a friend, are you able to sell a unit for me in Parramatta?
Me: More than happy to assist you, where is the unit located?
Investor: (Undisclosed address)
Me: Sure thing, happy to have a look at it and do my homework so I can get back to you with a market opinion.
Investor: Edwin, I want to free up some cash because I have bought elsewhere, so all I want is to get back what I paid for it.  Can we also organise a simultaneous settlement, because it will be completed in three months?
Me:  So if you have a figure in mind I have to achieve would you mind telling me what this is? We will also have to calculate; stamp duty implications if any and the commission?
Investor: We need to achieve about $500K-$510K
Me: how is it that you paid so much?!
My last remarks were based on my knowledge of the area and that particular development.  I was surprised to hear the purchase price considering the configuration of most units in the development and the location.  
Investor: The marketing company told us at the investment seminar; Parramatta is a thriving City, it is actually the geographical centre of Sydney, it will rent for $480-$490/week and the new International Airport was going to be built near Parramatta.
Without going into too much more detail about the conversation that followed, as I am sure you get the picture,  I inform the investor that I would not be able to achieve the price he wanted, the location of the complex did not in any way match any of the comparable sales in the marketing brochure he emailed to me as we were talking and, last I checked, an international airport had not been approved for Parramatta.
The investor did the right thing by researching Parramatta.  Regrettably, the investor's quality of research was extremely poor and obtained from a  biased source.  
The complex location, although being not more than 1.2km from Parramatta Westfield and the railway station, is far enough away for it not to be considered "close to main shops and transport". The physical location of the unit complex places it within proximity to older unit apartments but these are tidy blocks that achieve rents from $380-$410/week. A tenant would not consider paying a $60-$80/week price difference, just because the subject property is new. Focusing on the geographical location that surrounded the subject property, the investor faces a number of hurdles; comparable rentals within a 50m radius, a number of unit blocks in the area are 5-7 years old but are very tidy and last, being more than 500m from the centre of Parramatta is just too far for this sort of money.
Turn your mind to some of the Sydney city areas a while back like Surry Hills. Close to the city centre but yet far away enough to have a significant rental differential to a unit on the southern fringe of the Sydney CBD.  Yes in time property rental increases, but how long will the investor have to wait?  A very, very long time is my call. Without going into the complicated terrain of ethical conduct and misrepresentation by agents (marketing companies), you have to look beyond what anybody offers you when looking into the Sydney area. I said it before and I say it again; Sydney is a big place and if you want to succeed in this market, look at property clinically and dissect all the information given to you – that means critically evaluating the quality of the information researched.
From the location the investor gave me, had the unit complex being one to two blocks further back, the address would have been considered Granville and just the change in name on the contract could have had further negative impact.  Likewise had the complex being 1-2 short blocks closer to the Westfield shops, with a solid marketing campaign, he may have come close to the  price he wanted.
The lesson to take from this story - when looking at the Sydney Property Market, the geographical position in the suburb of a particular development can make a big difference in rental return value.  Tenants can be fussier than owner occupiers when it comes to location, position and property attributes.  What is ultimately achieved in rent will impact the actual value of the property under a valuers assessment to produce to a banking body.
---
 About Edwin Almeida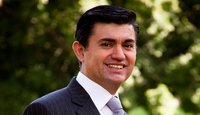 Edwin is an independent real estate agent who is passionate about teaching people the many skills he has learnt over the years. Edwin teaches people skills that can assist in making decisions on all things real estate and property, from preparing to rent to leasing property as a landlord, buying a first home to organising an investment portfolio. Edwin is most happy when he gives free advice, and shares industry secrets with other real estate professionals.
Top Suburbs
Highest annual price growth - click a suburb below to view full profile data: