The asking rent for houses has declined in three of Australia's major cities, but there is good news for investors in some states.
In the year to June 2014 asking rents in Perth declined by 6.6 per cent, according to Australian Property Monitors (APM). The median weekly asking rent in Perth is now $460, down from $493 in June 2013.
House rents also fell by 6.3 per cent in Canberra, taking the median to $450, and 5.8 per cent in Darwin. Darwin houses also experienced a 7.1 per cent decline in asking rents over the June 2014 quarter, taking the median to $650.
Despite the drop, Darwin still commands the highest median weekly rent for houses and units of all Australia's capitals. Sydney houses now have a median weekly asking rent of $510 (a year-on-year increase of two per cent), while the median for units is $500 (a year-on-year increase of 5.3 per cent).
Melbourne houses experienced the largest year-on-year increase in rents, climbing 5.6 per cent over the year to June 2014. The median weekly asking rent in Melbourne for houses is now $380, according to APM.
Asking rents for units fell in two cities on a year-on-year basis with Perth declining by 5.9 per cent and Canberra by 6.1 per cent. All other cities experienced an increase.
Rental growth for units has been outperforming houses in most capitals, which senior economist Andrew Wilson said was due to "affordability barriers and lifestyle choices".
Dr Wilson also pointed out that while there has been some rental growth, rental yields for houses have fallen in most capital cities, mirroring the impact of price growth.
The full breakdown of asking rents can be seen below.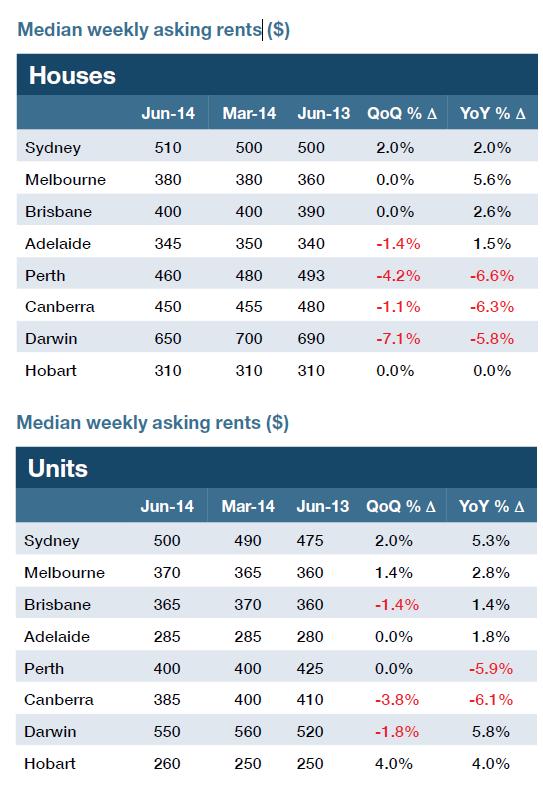 Source: APM
Top Suburbs
Highest annual price growth - click a suburb below to view full profile data:
latest news