In a weakening rental market, landlords need to work harder to keep their existing tenants.
Blogger: Shane Kempton, CEO, Professionals Real Estate Group
The latest national rental figures by CoreLogic RP Data show that average rents are now 0.2 per cent lower than a year ago, which is their weakest performance on record.
Rents are falling because of a residential building boom in most Australian capital cities over the past three years, which has led to a growing surplus of rental properties.
In a weakening rental market, landlords need to work harder to keep their existing tenants because if they lose them, it may take some time to find new ones. In some instances it could take several weeks to find a suitable tenant and this could add up to several thousand dollars in foregone rent.
There is an old saying in real estate that 'the tenant is king', a truism that applies to all of Australia's capital city markets. 
In the current property market, it is critical that landlords reduce vacancy rates by ensuring they offer the highest level of service to their existing tenants.
If a tenant leaves a property because they are unhappy, the outcome for the landlord may be lost rents over several weeks as they try to find a new tenant, and at the end of the day they might have to accept a lower rent than the previous tenant was paying. 
One of the most common reasons tenants leave a rental property is that the landlord does not address simple maintenance issues like fixing a broken air conditioner or faulty shower.
This is particularly common among landlords who manage their own properties, as they are often too busy with other matters to look after problems raised by landlords, or are simply not in contact.
During times of low vacancy rates, when tenants are struggling to find accommodation, landlords can get away with providing lower levels of service because tenants have very few choices.
However, in the current property market, dissatisfied tenants can easily move to a better property if a landlord provides a sub-standard service. 
If you are too busy to manage your property, then it makes sense to hire a professional property management company to look after it.
This will ensure that the property is regularly inspected and kept in good condition. It also means that the tenant will have someone who they can easily contact to address problems at the property, even after hours or on weekends.
About the Blogger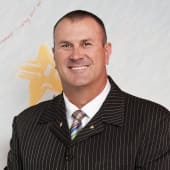 Shane Kempton is the inaugural Group CEO of Professionals Real Estate Group which has nearly 300 offices located throughout Australia and New Zealand.
Professionals have been operating in Australia for four decades and provide a wide range of real estate services to consumers.
Top Suburbs
Highest annual price growth - click a suburb below to view full profile data:
latest news