It appears both consumers (vendors and landlords) as well as real estate agents (REA) believe the notion that women make the better REA.

Blogger: Edwin Almeida, Managing Partner, Just Think Real Estate
A discussion was posted on a LinkedIn property forum to debate this very topic with REAs across Australia. It was my personal and initial belief that it would be a close call. But I was wrong. Women are winning the industry opinion poll, hands down. Are we witnessing a change that is about to revolutionise the real estate industry in the sales sector?
For years, even decades, the role of the REA in the area of sales has been dominated by the stereotypical "Alpha Male" personality. It is widely perceived; the power suit, overly energetic motor mouth and a touch of arrogance gets the job done. Well, does it in today's world? Perception does not always make for best results. Nor do sales volumes equal to maximum return for vendors.
As the market hits an uncertain period here in Sydney, we can be certain; eye for detail, empathy and higher levels in communication and negotiation skills will be the minimum of requirements to get the job done to sell a home and achieve the highest of performance for vendors. But not necessarily the power suits and the in and out mentality that is typically associated with the super slick sales person. The three qualitiesaforementioned above however, do achieve the optimum result and outcomes desired by the vendors.
I am one to believe women do have the capacity and the potential to earn greater incomes in the real estate arena. But, why is it when you search most property magazines, hard copy adds and social media REI networks, it is clearly obvious women are outnumbered by men?
Alternatively to mainstream belief, I perceive this market place to be an untapped opportunity for women sales agents to be discovered. I further believe some have begun this transition in some offices; a new trend that will soon emerge as the norm in the industry. Of course, the general public will take some time to understand this phenomenon as well in order to embrace the idea that a quick high pressure sale does not make for the best price.
Questions arise and many reasons given, why people believe that ladies make for the better REA.  Interestingly however, they mainly gravitate towards; the gentle approach, the calm notion of providing solutions and understanding. This being poles apart from the traditional; bombastic, domineering, slick salesman type roles we associate with the sales arena of real estate.
It is nonetheless a warm revival if I may put it this way. Perhaps this is the change the REI needs to once again capture the prominence it once had. But for now, we continue to live with the bad stigma that sticks to us like chewing gum sticks to our new Italian leather shoes. The Morgan polls placed us at the bottom of the heap last year, out of 50 professions surveyed. The only consolation, we ranked above politicians as I recall. I do welcome the change with open arms and do encourage women to take the leading roles if it means a change for the better.
---
 About Edwin Almeida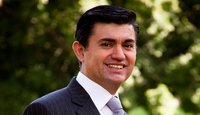 Edwin is an independent real estate agent who is passionate about teaching people the many skills he has learnt over the years. Edwin teaches people skills that can assist in making decisions on all things real estate and property, from preparing to rent to leasing property as a landlord, buying a first home to organising an investment portfolio. Edwin is most happy when he gives free advice, and shares industry secrets with other real estate professionals.
Thank you.

Your enquiry has been sent to a local Aussie Mortgage Broker.

We will be in contact with you shortly.
Opps.

error occurred.
Unfortunately Aussie cannot attend to your home loan related enquiry at this stage as you must be a citizen or permanent resident.
Do you need help finding the right loan for your investment?
What Aussie do for you:
Give expert mortgage advice to help you find great investment loan deals
Help you maximise return by lowering financing costs
Save you time and effort by helping with the paperwork

Top Suburbs
Highest annual price growth - click a suburb below to view full profile data:
latest news