Many people choose to be individual trustees because the establishment and ongoing costs are less than the corporate trustee. While it appears to be a little cheaper upfront, there are additional responsibilities and ongoing liability that needs to be considered prior to deciding which option is best for you.
Blogger: Justin Beeton, The SMSF Club
Do I choose Individual Trustee's or a Corporate Trustee for my SMSF? This article compares the benefits and costs for both an individual trustee with that of a corporate trustee.
There are two alternatives with the trustee structure for a SMSF
1. Individual trustee, where each member of the fund is a trustee, or
2. A Corporate trustee, where each member of the fund is a director of the trustee company.
Individual Trustees
It is a legislative requirement that where a SMSF has individual trustees, there must be a minimum of two and a maximum of four trustees. The individual trustees are responsible for running the SMSF. Almost anyone over 18 can be a trustee of a SMSF including a spouse, your children (provided they are older than 18) or friends.
Advantages of having Individual Trustees
The main benefit of managing a SMSF with individual trustee's is that the ongoing administrative requirements, and up front establishment costs are usually less than those associated with a corporate trustee.
Disadvantages of having Individual Trustees
•    Appointing additional members and trustees can result in tedious and expensive administrative work
•    You can not manage a SMSF as an individual trustee with only one member. Single member funds can only operate under a corporate trustee
•    Liability issues. If the SMSF is sued the right of indemnity can extend beyond just the assets of the SMSF.  That is, if the assets of the SMSF are not sufficient to discharge the liability, then individual trustees may be liable for the shortfall personally.  This risk is magnified when the SMSF owns an investment property (see case study below).
Corporate Trustee
You may select a company to act as a trustee for your SMSF. In this case, all members of the SMSF will need to be directors of the Company. The directors of the company will be responsible for the running of the SMSF.
Benefits of having a Corporate Trustee
A corporate trustee can offer the following long term benefits:
•    A company has the benefit of limited liability. If a Corporate Trustee suppers any liability, the individual directors will not suffer any personal liability (other than in exceptional circumstances).
•    A company continues to function even after the death of one of the SMSF members.
•    Assets are clearly separate from personal assets.
•    If a new member is introduced to the SMSF, then generally they must become a trustee of the fund. with a Corporate Trustee, then a new director needs to be appointed to the company and notified to ASIC, however with individual trustees the process is more complex, time consuming, and expensive. Titles will need to be changed for each asset held within the SMSF to reflect the change of trustees, however with a company the title remains the same.
•    When buying property and entering into limited recourse loan agreements, the banks will usually lend a corporate trustee additional funds to purchase the property. The borrowing rate under individual trustees is usually 72% versus up to 80% under a corporate trustee.
Disadvantaged of having a Corporate Trustee
•    Additional administrative costs to establish a corporate trustee.
•    Annual ASIC fees
•    Additional paperwork required, and directors have to comply with the company constitution and articles.
When thinking about establishing a SMSF, choosing the right type of trustee arrangement is an important decision. As a trustee of a SMSF in either structure you are responsible for the operations of the SMSF. It is an important role and is vital to ensure the ongoing compliance of your SMSF.
Read my blog tomorrow to find out the additional risks of having individual trustees as opposed to a corporate trustee when you own property in your SMSF.
Contact this Blogger Immediately
About the Blogger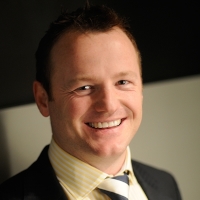 Justin Beeton is the founder and managing director of The SMSF Club and the head of investments at Sequoia Asset Management.
The SMSF Club is a membership program designed specifically for anyone who has or wants an SMSF. With an extensive network throughout Australia, The SMSF Club integrates a tailored ongoing education program with ongoing administrative, compliance, and investment support. The SMSF Club assists members throughout every stage of the SMSF process. 
More from this writer
Thank you.

Your enquiry has been sent to a local Aussie Mortgage Broker.

We will be in contact with you shortly.
Opps.

error occurred.
Unfortunately Aussie cannot attend to your home loan related enquiry at this stage as you must be a citizen or permanent resident.
Do you need help finding the right loan for your investment?
What Aussie do for you:
Give expert mortgage advice to help you find great investment loan deals
Help you maximise return by lowering financing costs
Save you time and effort by helping with the paperwork

Top Suburbs
Highest annual price growth - click a suburb below to view full profile data:
latest news