You may be aware that having any form of body corporate debt excludes your vote from any minor or major decisions at executive committee meetings, most unit owners don't realise how easy it is for a simple mistake to land them with a body corporate debt.

Blogger: Andrew Staehr, Archers Body Corporate Management

The legislation says "If the owner of a lot owes a body corporate debt at the time of the meeting, he or she does not have the right to exercise a vote for a particular lot unless the motion requires a resolution without dissent (SM. S84)".
A recent adjudicators order by the Body Corporate Commissioners Office found that even if a lot owner owes $0.01 as a debt to the body corporate, they are not permitted to vote at a general meeting.
Whilst the adjudicator considered it "harsh for someone to be deprived of their vote just because they unwittingly underpaid their levies by a tiny amount" they ruled that there is no discretion to allow a vote to be counted when a body corporate debt is owing.
Legislation also does not require the committee to contact owners to let them know of any arrears prior to a vote which means that even a slight error in your financial calculations can have the consequence of your vote being dismissed entirely.
Because of this, owners should always round up (not down) when paying the levy amount. It is also worthwhile to check with the executive committee prior to any major meetings to ensure your finances are in order and you do not have any minor debts that could get in the way.
If you own a unit, make sure your vote counts by staying on top of your finances, ensuring everything is paid on time and you are up to date.
If you want to check out the adjudicator's order in the case where $0.01 debt to the body corporate lost one owner the right to vote, click here.
My advice for anyone who is a voting committee member:
•    Always round up when calculating your finances to avoid accidentally ending up in arrears
•    Confirm your finances prior to any meetings and double-check with the committee that you do not owe any money to the body corporate
•    Check the dates of your payments closely to make sure the money is paid on time.
About the Blogger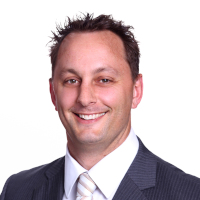 Andrew has been involved in the property management industry since 1999 and has worked for Queensland's most respected body corporate and strata management firm, Archers Body Corporate Management since 2002. He is an expert on all operational matters concerning body corporate and strata title communities.
Andrew is a regular media commentator on topics of interest to residents, investors, owners and managers of body corporate properties. He holds a Certificate IV in Body Corporate Management, is a Member of Strata Community Australia (SCA), the Urban Development Institute of Australia (UDIA) and the Australian Resident Accommodation Managers Association
Thank you.

Your enquiry has been sent to a local Aussie Mortgage Broker.

We will be in contact with you shortly.
Opps.

error occurred.
Unfortunately Aussie cannot attend to your home loan related enquiry at this stage as you must be a citizen or permanent resident.
Do you need help finding the right loan for your investment?
What Aussie do for you:
Give expert mortgage advice to help you find great investment loan deals
Help you maximise return by lowering financing costs
Save you time and effort by helping with the paperwork

Top Suburbs
Highest annual price growth - click a suburb below to view full profile data: