Generally speaking, property investors are a financially savvy bunch. In order to get lending to fund your real estate pursuits, you need to have at least a sound understanding of your budget and your cost of living.
Blogger: Paul Wilson, Educating Property Investors, We Find Houses and We Find Finance

But I think most property investors, even those who are financially switched on, would be surprised to learn how much the average lifestyle costs these days.
The "number crunchers" at the ABS have analysed the overall cost of living for the average Australian. They've included expenses such as food, clothing, accommodation, education, health, transport and recreation.
And the total figure they've come up with is surprising. It's not $500,000, or $750,000, or even $1 million.
No, the ultimate cost of living for the average Aussie today is a massive $2.17 million!
That's over $26,400 per year, from the minute you're born until your final moments on earth.
Based on these figures, a family of four with two adults and two kids will need an average of $105,600 annually, in after-tax dollars, to keep everyone clothed, fed, and tucked into a warm bed at night. (Spare a thought for parents like me; with five children in my brood, my annual bill tops out at an average of $185,000!)
These estimates are based on an average life expectancy – which is almost 82 for a child born today – and they really highlight how important it is to have a financial strategy in place to ensure your wealth in the future.
When the cost of living is so enormous, in an environment where we can't rely on government pensions in retirement, it really is imperative for people to start thinking about their financial future. The earlier you start planning for your financial future, the better.
Think about it: if you live 'til you're in your 80s and you plan to retire from the workforce around age 60, you have at least 20 years worth of living costs to cover… Without the benefit of a regular income from your paycheck.
And when you're retired, you'll likely want to enjoy your lifestyle. This means indulging in your hobbies, partaking in sports and activities, and taking the odd holiday – all of which requires money!
If you own one single investment property in by that stage of life, then you'll be better off than the average Australian in retirement. So just imagine how rewarding life could be if you had several fully-paid properties in your portfolio? Let the day-dreaming begin…
About the Blogger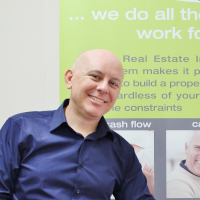 Paul Wilson is an Independent Property Investing Expert who's been educating and coaching investors since 2001. Author of 7 Deadly Mistakes Property Investors Make and How to Avoid Them, he also manages www.educatingpropertyinvestors.com.au, www.wefindhouses.com.au, and www.wefindfinance.com.au. 
Through his books and websites, Paul provides valuable, independent guidance and support by teaching strategies on how you can invest successfully, while protecting yourself from the common mistakes that trap many investors from reaching their full potential.
Paul doesn't promote cookie cutter strategies, instead he demonstrates how you can create wealth as a property investor regardless of your budget, location, strategy and risk profile. Paul makes his home on the Gold Coast and spends his leisure time enjoying adventures, surf and sun with his wife and five children. Protect and grow your portfolio with knowledge. Contact Paul today for a complimentary consultation: 1800 690 890 and ask for Paul, or email [email protected]
Thank you.

Your enquiry has been sent to a local Aussie Mortgage Broker.

We will be in contact with you shortly.
Opps.

error occurred.
Unfortunately Aussie cannot attend to your home loan related enquiry at this stage as you must be a citizen or permanent resident.
Do you need help finding the right loan for your investment?
What Aussie do for you:
Give expert mortgage advice to help you find great investment loan deals
Help you maximise return by lowering financing costs
Save you time and effort by helping with the paperwork

Top Suburbs
Highest annual price growth - click a suburb below to view full profile data:
latest news