People are just like plants in that they require sufficient natural light to survive and thrive. Consequently the level of natural light in a property is one of the deciding factors in the purchasing of a property.
Blogger: Bernadette Janson, The School of Renovating
Dark dingy rooms are unappealing so whether you're renovating to rent or sell increasing the level of natural light will definitely add value or at the very least make the property easier to sell.
Adding or enlarging windows might seem like the obvious solution but they are many more ways to treat the problem before going to such expense.
Here are my most cost effective tips for achieving a lighter brighter property.
1.    Remove any external structures or vegetation that may be shading the windows if possible.  We recently renovated a property with a faux mansard roof, which had 1-metre wide eves just above the head of the windows.  By removing this detail, we removed the eaves and the light just poured into an otherwise dingy house.
2.    Paint the interior of the home a light and airy colour scheme. The modern greys are very popular and you can vary the strength from quarter strength right up to full strength according to the light level in the room. Dulux Ghosting a good example.
3.    Paint the internal window frames white. Of course there are hundreds of whites; Dulux Natural White is a good all-rounder. The white window frame will optimize the natural light that hits it by reflecting the light back into the room.
4.    Clean the windows so that they sparkle. It might seem obvious but many neglect this step. The professional way to clean windows is with a window mop and warm soapy water and finished off with a good quality squeegee with a new rubber blade. Never use newspaper to clean glass as it leaves streaks.
5.    Installing a skylight is another great way to flood a room with light, Especially rooms that are landlocked (have no external walls) There is a huge range of skylights available from the cost and space effective Solar Tube designed to fit between the roof timbers right up to the Velux (the Rolls Royce of skylights.)
6.    To lighten a dark hallway consider changing the doors of rooms opening onto the hallway to single light glass doors. They cost a bit more than a flush panel but will allow borrowed light from the windows in the adjacent rooms to the hallway.
7.    Keep window dressing to a minimum, sheer curtains or white shutters or blinds. Better still; skip window dressing completely if possible.
8.    Keep your furnishings light or white. White polyurethane is popular and perfect to lighten rooms.
9.    Use large wall or floor mirrors to reflect the light and make the room look more spacious.
10.    Renovate an older skylight by replacing the Perspex dome (they tend to go cloudy with age) and paint the trunk white or ceiling colour. If you are still unhappy with it you can add a Perspex diffuser at ceiling level so you don't see the trunk but the light still comes through.
Contact this Blogger Immediately
About the Blogger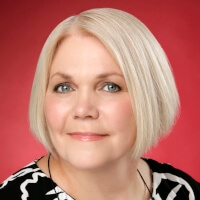 Bernadette Janson is a lover of renovating and the director Of The School of Renovating.
She knows that women get a raw deal with superannuation and the majority are facing a poorly funded retirement, particularly those on the wrong side of forty. The average superannuation payout for an Australian woman is $37,000 which is a fraction of what she makes on just one project.
Her mission is to inspire , motivate and empower women to rise above the statistics and create for themselves a brighter financial future.
Bernadette' passion began as a hobby twenty years ago while raising her four children when she discovered her flair for turning very ordinary houses into stunning family homes that are beautiful both aesthetically and functionally
Bernadette teaches renovating as a powerful and flexibility way to fast tracking your retirement savings while keeping risk to a minimum. To find out how renovating could fast track your retirement visit http://www.TheSchoolOfRenovating.com
Thank you.

Your enquiry has been sent to a local Aussie Mortgage Broker.

We will be in contact with you shortly.
Opps.

error occurred.
Unfortunately Aussie cannot attend to your home loan related enquiry at this stage as you must be a citizen or permanent resident.
Do you need help finding the right loan for your investment?
What Aussie do for you:
Give expert mortgage advice to help you find great investment loan deals
Help you maximise return by lowering financing costs
Save you time and effort by helping with the paperwork

Top Suburbs
Highest annual price growth - click a suburb below to view full profile data:
latest news