Both can save you money and pay off your home loan faster but which is the right choice for you?
Blogger: Warren Dworcan, managing director, Rate Detective Finance
How they work
Redraw
A redraw feature allows for additional payments to be made directly into your home loan thus reducing the principle balance and therefore the overall interest charged. You can withdraw/redraw this excess when you need it. By paying the money directly into the loan, a redraw facility allows you to directly reduce the balance of your loan, rather than simply reducing interest paid in the short-term.
For example if you have a $300,000 loan with a $20,000 redraw, you would have reduced the loan down to $280,000. Therefore, you are only charged interest on the net amount.
Offset
An offset account links an interest bearing account to the home loan. Instead of reducing the loan principle whenever money is deposited into the loan, as you would with redraw, the offset account effectively reduces the interest bearing balance of the loan by the amount of funds held within the offset account. The interest on your mortgage is then calculated based on the net balance of the two accounts.
For instance, if you have put $20,000 in an offset account of a $300,000 loan you would only be paying interest based on $280,000, while the loan principle remains the same in the process.
Pros and Cons
Both have the same savings so what's the difference?
Redraw
Redraw facilities are usually more restrictive. It requires a minimum amount to be redrawn, may take longer to transfer the funds and it may also attract withdrawal fees. However redraw can be attractive to those who like to see their overall debt position reducing on a regular basis, along with removing the temptation of withdrawing the excess funds.
Offset
As an offset account is more flexible it can be treated like an everyday transaction account. You can withdraw as much funds and as often as you like from commonly available devices such as an ATM.
The flexibility of an offset account enables you to plan for a new property. Your savings can be easily transferred to another account for the purpose of getting a new loan. On the other hand, it would not be that simple for redraw facilities.
Tax Implications
Redraw
If you redraw money for non-investment purposes then the interest expended on that amount is no longer tax deductable in the eyes of the ATO.
Offset
Any withdrawals you make from an offset account will not affect tax deductibility on the overall amount of your interest expense.
What is better?
At the end of the day it is up to you, what suits you and your strategy the best.
An offset account would be a better choice if you want to reduce the interest on your loan while maintaining day-to-day access of your cash. It is ideally suited for home owners who want to minimise the interest owing on their repayments, without necessarily paying extra off their principal.
In contrast if your priority is to reduce the principle and pay off your mortgage earlier, instead of reducing interest in the short term, you should consider a redraw.
About the Blogger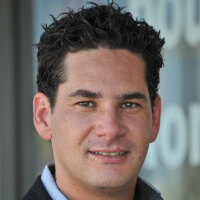 Warren Dworcan is the Managing Director of Rate Detective Finance, which provides information to consumers about home loans, credit cards, personal loans and personal insurance.
Successfully assisting thousands of Australians with loan enquiries in excess of more than $1 billion, Warren alongside his highly qualified and dedicated staff are equipped to deal with all aspects and complexities associated with the mortgage market.
Over the last two years Warren has been dedicated to growing the business into becoming one of the leading independent brokerages in Australia.
Recently recognised as one of the top brokers in Australia, Warren was awarded the coveted Australian Broker of the Year award in both 2012 and 2013 at the Australian Broking Awards in Sydney.
Thank you.

Your enquiry has been sent to a local Aussie Mortgage Broker.

We will be in contact with you shortly.
Opps.

error occurred.
Unfortunately Aussie cannot attend to your home loan related enquiry at this stage as you must be a citizen or permanent resident.
Do you need help finding the right loan for your investment?
What Aussie do for you:
Give expert mortgage advice to help you find great investment loan deals
Help you maximise return by lowering financing costs
Save you time and effort by helping with the paperwork

Top Suburbs
Highest annual price growth - click a suburb below to view full profile data:
latest news