Renovating your property is one of the most effective ways of increasing both its appeal and its profitability. But if you want to make your property really sing, try one of these 'out of the box' renovation tricks to grab the attention of would-be tenants or buyers.
Blogger: Paul Wilson, Educating Property Investors, We Find Houses and We Find Finance

Mount wallpaper
If a painted feature wall can instantly lift the look and feel of a room, what impact do you think vibrant wallpaper will have? A modern or funky wallpaper design can create a real sense of style and interest in your property. It also offers that unique and glamorous 'wow factor' to otherwise small and uninteresting spaces, like poky dining rooms and study nooks. Best of all, it's relatively easy to achieve the look.
Some renovators are put off by the fact that wallpaper can be expensive and difficult to install, but suppliers like Pick A Wall make the DIY process of installing custom-made wallpaper simple and cost-effective. You can also pick up pre-made, DIY wallpaper sheets from hardware stores like Bunnings and Masters.
Create a talking point
My aunt's old home had a bright orange toilet and while it wasn't my cup of tea, I have to say, my kids couldn't get enough of it! It makes me realise, though, that installing a funky yet affordable bathroom is a great way of adding interest to an otherwise ordinary home.
For instance, you could replace a standard toilet with a bright red system and matching vanity or shelves; install wall-to-wall, floor to ceiling mirrors that create the illusion of space; or mount bright, bold wallpaper along one wall or in the bathroom to make it stand out.
The aim of the game is to create a talking point and an area of the home that people (especially young families) are going to fall in love with. This is a great strategy for apartments and smaller houses, where you may struggle to stand out amongst competing homes.
Install by-fold doors
People love the idea of indoor/outdoor living areas for entertaining, so if your property lends itself to this style of living, I would strongly consider installing by-fold doors.
When you're selling your property – whether it's to potential tenants or potential buyers – you are selling the lifestyle that the home offers. If they can imagine themselves having breakfast on the patio or entertaining friends for a Sunday BBQ, then your property will become that much more appealing.
Lead with lighting
We so often play it safe with lighting so we can appeal to the broadest variety of tenants. But do you know what plain, broad appeal can often lead to? Boring design!
Unique lighting fixtures are one of the simplest and most affordable ways you can improve a home's look and appeal. You don't need to revamp the whole property, but consider updating some key areas, such as a fancy chandelier in the dining room, or a modern light fixture in the front entry. In a crowded property market, it's these types of small details that can make all the difference.
About the Blogger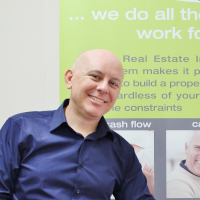 Paul Wilson is an Independent Property Investing Expert who's been educating and coaching investors since 2001. Author of 7 Deadly Mistakes Property Investors Make and How to Avoid Them, he also manages www.educatingpropertyinvestors.com.au, www.wefindhouses.com.au, and www.wefindfinance.com.au. 
Through his books and websites, Paul provides valuable, independent guidance and support by teaching strategies on how you can invest successfully, while protecting yourself from the common mistakes that trap many investors from reaching their full potential.
Paul doesn't promote cookie cutter strategies, instead he demonstrates how you can create wealth as a property investor regardless of your budget, location, strategy and risk profile. Paul makes his home on the Gold Coast and spends his leisure time enjoying adventures, surf and sun with his wife and five children. Protect and grow your portfolio with knowledge. Contact Paul today for a complimentary consultation: 1800 690 890 and ask for Paul, or email [email protected]
Thank you.

Your enquiry has been sent to a local Aussie Mortgage Broker.

We will be in contact with you shortly.
Opps.

error occurred.
Unfortunately Aussie cannot attend to your home loan related enquiry at this stage as you must be a citizen or permanent resident.
Do you need help finding the right loan for your investment?
What Aussie do for you:
Give expert mortgage advice to help you find great investment loan deals
Help you maximise return by lowering financing costs
Save you time and effort by helping with the paperwork

Top Suburbs
Highest annual price growth - click a suburb below to view full profile data:
latest news