This is a dangerous time for inexperienced investors to be looking for a loan and if you want to save money, you need to know how to look beyond the interest rate.
Blogger: Paul Wilson, Educating Property Investors, We Find Houses and We Find Finance

Lately, there's been a lot of hype around the low interest rates and speculation of what the variable or fixed rate will be in the coming months.
This is a dangerous time for new investors who are looking for a loan, as multiple bank and non-bank lenders are pulling them in every which way, leaving fresh-faced investors feeling a little overwhelmed.
As a result, they often make rushed, uninformed decisions and don't take into account their current situation or if it will give them flexibility in the future. This can leave them in a worse place financially than if they ignored the hype of 'snagging a good deal while you can'.
It's not hard to work out what will happen if an applicant takes out a variable loan in September 2014 and interest rates go back up by January 2015.
Even the Reserve Bank is expressing concern that many recent borrowers are likely to experience difficulty in servicing their commitments if interest rates rise substantially.
A smart move would be fixing a portion of their loan at the current attractive rates for as long as required, taking into account their future plans.
But an even smarter move would be to forget about those decimal percentages altogether; because it's not about the interest rate, it's about the 'payment'.
For example, Investor A takes out a $450,000 loan on a 30-year term with an interest rate of 5.5 per cent and makes monthly repayments of $2,555.
All well and good, but Investor A will eventually pay back $920,000 – a whopping $470,000 of it being interest.
Investor B on the other hand has the same loan, same term and same rate, but makes weekly repayments of $638, $2,555 divided by four, and the difference will shock you.
Investor B will eventually only pay back $690,000, saving $240,000 in interest and reducing their loan term to only 16 years and 2 months.
If you're not ready to invest, you could look at possibly consolidating your debts into one easy payment. If you're comfortable making your current payments, then redirect all of this into the same amount at a much lower rate.
Recent clients of mine had a home loan of $430,000 plus $50,000 worth of credit card debt costing them about $4,044 per month. I consolidated all of this debt, and if they continue to make the same repayments, they can pay it off in just over 13 years saving an incredible figure of $274,000 in interest on the total loan amount.
It's time we move the focus away from the rate itself and put the spotlight on how we can use a formulated strategy to beat the banks and shake-up the taxman's business model.
These are just two of the ways you can start taking action to lay the foundations for your financial future.
This post originally appeared on www.wefindhouses.com.au
About the Blogger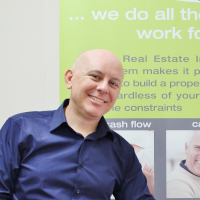 Paul Wilson is an Independent Property Investing Expert who's been educating and coaching investors since 2001. Author of 7 Deadly Mistakes Property Investors Make and How to Avoid Them, he also manages www.educatingpropertyinvestors.com.au, www.wefindhouses.com.au, and www.wefindfinance.com.au. 
Through his books and websites, Paul provides valuable, independent guidance and support by teaching strategies on how you can invest successfully, while protecting yourself from the common mistakes that trap many investors from reaching their full potential.
Paul doesn't promote cookie cutter strategies, instead he demonstrates how you can create wealth as a property investor regardless of your budget, location, strategy and risk profile. Paul makes his home on the Gold Coast and spends his leisure time enjoying adventures, surf and sun with his wife and five children. Protect and grow your portfolio with knowledge. Contact Paul today for a complimentary consultation: 1800 690 890 and ask for Paul, or email [email protected]
Thank you.

Your enquiry has been sent to a local Aussie Mortgage Broker.

We will be in contact with you shortly.
Opps.

error occurred.
Unfortunately Aussie cannot attend to your home loan related enquiry at this stage as you must be a citizen or permanent resident.
Do you need help finding the right loan for your investment?
What Aussie do for you:
Give expert mortgage advice to help you find great investment loan deals
Help you maximise return by lowering financing costs
Save you time and effort by helping with the paperwork

Top Suburbs
Highest annual price growth - click a suburb below to view full profile data: