Staying motivated during your property investment pursuits can be difficult, particularly if you aren't seeing immediate rewards. Here's how you can stay the course and come out a winner.  
Blogger: Paul Wilson, Educating Property Investors, We Find Houses and We Find Finance

I'm a big fan of the following quote by world-renowned investor Warren Buffet:
"Someone's sitting in the shade today because someone planted a tree a long time ago."
This quote speaks absolute volumes when it comes to investing in property.
There are different motivations for investing in property – for yourself or for your children – but either way it is the future versions of these people that will benefit from the decisions you make in the present.
It takes a special kind of person to be highly successful in property investing, since it requires incredible amounts of discipline and patience to be able to focus on a goal which may only start producing benefits five or 10 years down the track.
You could put this down to not having enough will power to see it through, or perhaps it's that our decision-making process is affected by what's called 'temporal discounting'.
Temporal discounting refers to the phenomenon that the value of a reward loses its magnitude and appeal in correlation to the delay of receiving the reward. For example, your motivation to work a full month would decrease significantly if you were told you would only be paid for the work one year later. Even though you would be receiving the same amount of money (inflation aside), this concept challenges our modern society of instant gratification.
On the contrary, when individuals demonstrate a sustained interest and motivation in a delayed reward, they are said to have less discounting, and thereby more self-control. It's people like Warren Buffett, Bill Gates and Steve Jobs who have mastered such skill; learning to say no to any distraction that strays them from their ultimate goal.
Another way of looking at our inability to plan and implement for the future is through research led by Hal Hershfield, a psychologist at the University of California in Los Angeles, who has done a number of studies in this area. He claims we tend to think of our future selves the same way we would a stranger, which helps to explain why it's so hard for some of us to save enough for retirement or do physical exercise. This mindset makes it hard to mentally connect the decisions we're making now, to the consequences or benefits they could lead to in the future.
If our lack of concern for our future selves is caused by a sense of disconnection from them, then it stands to reason that feeling closer to the future you will lead you to treat him or her better.
So let's work backwards.
Imagine yourself retired with a 15-plus property portfolio, receiving a passive yearly income upwards of $500,000. Indulge in the vision that, through investing in property, you could retire early to pursue your hobby and do what you want, when you want. Keep that future you in mind every time you make a decision in the present and ask yourself: is this something that my future self will thank me for?
Moral of the story: If the decisions you are making or the actions you are taking are positively working towards your end goal, keep doing what you're doing. If they are detrimental to your end goal and you can see that retirement vision fading, stop doing what you're doing and re-route to a more beneficial set of decisions and actions that move you closer, not further away, from your end goal.
This post originally appeared on www.wefindhouses.com.au
About the Blogger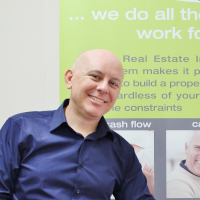 Paul Wilson is an Independent Property Investing Expert who's been educating and coaching investors since 2001. Author of 7 Deadly Mistakes Property Investors Make and How to Avoid Them, he also manages www.educatingpropertyinvestors.com.au, www.wefindhouses.com.au, and www.wefindfinance.com.au. 
Through his books and websites, Paul provides valuable, independent guidance and support by teaching strategies on how you can invest successfully, while protecting yourself from the common mistakes that trap many investors from reaching their full potential.
Paul doesn't promote cookie cutter strategies, instead he demonstrates how you can create wealth as a property investor regardless of your budget, location, strategy and risk profile. Paul makes his home on the Gold Coast and spends his leisure time enjoying adventures, surf and sun with his wife and five children. Protect and grow your portfolio with knowledge. Contact Paul today for a complimentary consultation: 1800 690 890 and ask for Paul, or email [email protected]
Thank you.

Your enquiry has been sent to a local Aussie Mortgage Broker.

We will be in contact with you shortly.
Opps.

error occurred.
Unfortunately Aussie cannot attend to your home loan related enquiry at this stage as you must be a citizen or permanent resident.
Do you need help finding the right loan for your investment?
What Aussie do for you:
Give expert mortgage advice to help you find great investment loan deals
Help you maximise return by lowering financing costs
Save you time and effort by helping with the paperwork

Top Suburbs
Highest annual price growth - click a suburb below to view full profile data:
latest news