Investors who have struggled to make purchases, or who have been delaying adding to their portfolio, may find the next few months the perfect time to buy.
Blogger: Shane Kempton, CEO, Professionals Real Estate Group 
The coming winter months offer the best opportunity for people wanting to enter the housing market .
During the period June to August each year the number of properties sales traditionally decline as fewer property buyers tend to look for homes during winter.
Similarly to the rental market, most people favour moving to a new home during spring and summer.
The winter months offer a definite window of opportunity for the many thousands of first home buyer and investors who have found it hard to secure a home over the past six months.
It is a truism that the best day to attend a home open is when it is pouring with rain, because bad weather or even major sporting events can significantly reduce the number of property buyers attending an inspection.
Areas that may offer the best opportunity for buyers are second- and third-tier coastal areas, because sales activity in the coastal real estate market tends to be quieter in winter compared to inland suburbs.
Astute property buyers should check the newspapers and internet each week to determine which suburbs have the greatest number of properties for sale. The more properties there are for sale in a suburb, the greater the competition between sellers.
In particular, property buyers should look for homes that may be currently rented and are being sold by investor landlords to coincide with the start of the new financial year.
Some of them may not have been properly maintained by the landlord and may offer astute home buyers a low-cost entry into the housing market.
Buyers should also make sure they have pre-approval finance before they make an offer on a property. Pre-approval finance strengths the negotiating position of the buyer. 
You should also make sure your first offer is your best offer. During this research phase, you can use the internet to obtain a property price check report to help gauge the offer amount. 
In addition, many real estate agents' sites offer free downloads that include handy hints and tips for buying property. Use all this free information to help in your decision-making process.
About the Blogger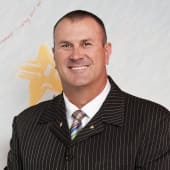 Shane Kempton is the inaugural Group CEO of Professionals Real Estate Group which has nearly 300 offices located throughout Australia and New Zealand.
Professionals have been operating in Australia for four decades and provide a wide range of real estate services to consumers.
Thank you.

Your enquiry has been sent to a local Aussie Mortgage Broker.

We will be in contact with you shortly.
Opps.

error occurred.
Unfortunately Aussie cannot attend to your home loan related enquiry at this stage as you must be a citizen or permanent resident.
Do you need help finding the right loan for your investment?
What Aussie do for you:
Give expert mortgage advice to help you find great investment loan deals
Help you maximise return by lowering financing costs
Save you time and effort by helping with the paperwork

Top Suburbs
Highest annual price growth - click a suburb below to view full profile data:
latest news