Have you factored these steps into your long-term goals?
Blogger: Paul Wilson, founder, We Find Houses Group
For some, the future (ie, retirement) seems like a long way away. For others, the future is just around the corner.
Whatever your age and stage, planning for your future is non-negotiable.
Below I'm going to outline how you can take charge of your future – in a way that's easy, simple and achievable.
Organise your finances
I can hear a choir of groans already but, yes, you need to organise your finances.
Many people don't understand what this really means… I'm not talking about nicely organised receipts for the tax man.
Getting on top of your finances means finding out what assets you have, e.g. house, savings and investments.
It also means having a clear picture of how much superannuation you have and when you can access it.
If you are closer to retirement age, it also means knowing when you can apply for the age pension and if you'll be eligible.
Make a financial plan
The next step is to plan out your finances.
Planning gives you the best chance of achieving financial security and a lifestyle you can enjoy in the years to come.
It also allows you to clarify potential issues and benchmark your current position.
You can also plan for where your needs might change over time. Considerations could include having children, travel, a new car or renovating.
Define your goals and think about how to use your different income sources to fund different stages in your life.
It's important to plan for the long-term, not just the next five years. Planning now can save you thousands later.
Grow your retirement income
Running out of money is a common fear for retirees, and even Gen Ys as they think about their future.
But there are ways to stretch your income in retirement and ways to plan to have more funds in retirement.
Get advice as early as you can – speak with your accountant about your superannuation and engage an adviser to help with investment strategies.
Diversify your assets into investments that grow over time, like shares or property.
Property is commonly regarded as a great way to build wealth for retirement.
An investment property (or multiple properties) could be the perfect thing to set you up for later in life.
And it's something that you can work into your financial plan right now.
It's never too early or too late to take charge of your future. By using the simple steps above you will have a solid start.
About the Blogger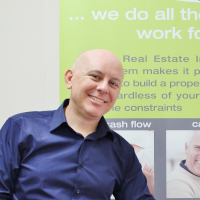 Paul Wilson is an Independent Property Investing Expert who's been educating and coaching investors since 2001. Author of 7 Deadly Mistakes Property Investors Make and How to Avoid Them, he also manages www.educatingpropertyinvestors.com.au, www.wefindhouses.com.au, and www.wefindfinance.com.au. 
Through his books and websites, Paul provides valuable, independent guidance and support by teaching strategies on how you can invest successfully, while protecting yourself from the common mistakes that trap many investors from reaching their full potential.
Paul doesn't promote cookie cutter strategies, instead he demonstrates how you can create wealth as a property investor regardless of your budget, location, strategy and risk profile. Paul makes his home on the Gold Coast and spends his leisure time enjoying adventures, surf and sun with his wife and five children. Protect and grow your portfolio with knowledge. Contact Paul today for a complimentary consultation: 1800 690 890 and ask for Paul, or email [email protected]
Thank you.

Your enquiry has been sent to a local Aussie Mortgage Broker.

We will be in contact with you shortly.
Opps.

error occurred.
Unfortunately Aussie cannot attend to your home loan related enquiry at this stage as you must be a citizen or permanent resident.
Do you need help finding the right loan for your investment?
What Aussie do for you:
Give expert mortgage advice to help you find great investment loan deals
Help you maximise return by lowering financing costs
Save you time and effort by helping with the paperwork

Top Suburbs
Highest annual price growth - click a suburb below to view full profile data:
latest news