As interest rates go up, investors should move towards securing the value of their homes.
Blogger: Paul Wilson, founder, We Find Houses Group
The big banks have recently raised interest rates for owner occupiers, leaving many feeling nervous.
The banks say they need to pass some of the burden onto customers due to tougher regulations.
There are differing opinions for and against the banks' decision: some believe higher capital requirements make the system safer – something that consumers will ultimately benefit from.
Some believe the changes will have a psychological impact on potential buyers and dampen confidence – which will lead to increased opportunities for savvy buyers.
Whatever the outcome of the rate hike, it's your responsibility to prepare for any eventuality – including a downturn in the market.
This means locking down your equity to ensure you're protected.
If you own your own home or an investment property, you have equity.
Simply put, locking down your equity means securing the value of your home and leveraging it for future investment.
But how?
In the current climate, property prices are going gangbusters, but what happens if a sudden downturn in the market strips value from your property?
To be prepared for this eventuality, and to secure funds for further investment, you should think about getting your home revalued immediately, then take this fresh valuation and secure a loan.
By getting your home valued, you will have a clear indication of your home's worth right now and the power to refinance based on this equity.
So I've got some cash in my back pocket – what now?
You can either start looking for new investment opportunities or sit on your cash and wait until the market changes.
Your strategy is as unique as you are but the key here is you must have a strategy.
If investment is your goal, you need to make sure you have a plan in place to maximise the additional equity you've secured.
Read more: 
Perth prices still feeling the pinch 
10 top tips every investor should know 
Bidders battle elements to boost clearance rates 
About the Blogger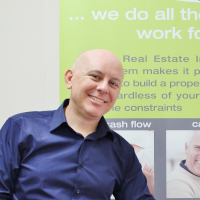 Paul Wilson is an Independent Property Investing Expert who's been educating and coaching investors since 2001. Author of 7 Deadly Mistakes Property Investors Make and How to Avoid Them, he also manages www.educatingpropertyinvestors.com.au, www.wefindhouses.com.au, and www.wefindfinance.com.au. 
Through his books and websites, Paul provides valuable, independent guidance and support by teaching strategies on how you can invest successfully, while protecting yourself from the common mistakes that trap many investors from reaching their full potential.
Paul doesn't promote cookie cutter strategies, instead he demonstrates how you can create wealth as a property investor regardless of your budget, location, strategy and risk profile. Paul makes his home on the Gold Coast and spends his leisure time enjoying adventures, surf and sun with his wife and five children. Protect and grow your portfolio with knowledge. Contact Paul today for a complimentary consultation: 1800 690 890 and ask for Paul, or email [email protected]
Thank you.

Your enquiry has been sent to a local Aussie Mortgage Broker.

We will be in contact with you shortly.
Opps.

error occurred.
Unfortunately Aussie cannot attend to your home loan related enquiry at this stage as you must be a citizen or permanent resident.
Do you need help finding the right loan for your investment?
What Aussie do for you:
Give expert mortgage advice to help you find great investment loan deals
Help you maximise return by lowering financing costs
Save you time and effort by helping with the paperwork

Top Suburbs
Highest annual price growth - click a suburb below to view full profile data:
latest news