One of the most important strategies many high-income property investors use is to correctly set up an offset.
SPONSORED BY Blogger: Neil Carstairs, Director & Senior Lending Specialist, Mortgage Corp 
As you can see, from the examples below, it's a strategy that can save a mortgage holder $200,000 in the life of a loan without making any extra repayments – just by structuring your loan correctly with a good broker. That's free money in your pocket. What could you do with $200,000?
There's no worse feeling than over-paying for something – it's like pouring money down the drain.
And yet, thousands of Australians waste millions of dollars collectively every day, by overspending on ill-suited mortgage products and paying higher interest rates than they need to.
So just how can you get started on eliminating debts, reducing your mortgage and saving a six-figure sum along the way – without investing extra dollars or making any changes to your lifestyle?
Using an offset account to your advantage on your home loan
If you have a personal mortgage against your home loan and you don't have an offset account, then you need a better mortgage broker, stat.
Any borrower with any savings at all – even as little as $10,000 – should be leveraging an offset account to their financial benefit.
In essence, an offset account is a savings account attached to your mortgage account, which allows you to reduce your interest charges against your mortgage.
By using a credit card supplied as part of the package and enjoying up to 55 days of interest-free each month, you can save thousands of dollars – all by using other people's money to help you reduce debt.
Here's how it works:
Let's say for this example, Ben Smith, an IT Manager working for a large corporate company, brings home each month $8,500 after tax. Ben has a $500,000 mortgage and $50,000 in his offset account. That $50,000 'offsets' the amount of interest payable on Ben's loan.
While that money remains in the offset, Ben's interest obligation is payable on just $450,000.
Then, Ben ups the ante by adding his monthly after-tax income of $8,500 to his offset. He pays for every single living expense and bill throughout the month using his interest-free credit card, then pays the balance in full each month. We call this using the bank's money for free to help pay off your mortgage.
The end result? Ben only pays mortgage interest on $441,500 – and the savings quickly build up.
Let's see how much Ben could save a year: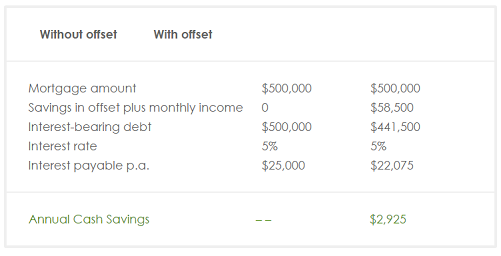 Ben pockets almost $3,000 in cash savings every year, with no extra financial effort required.* There has been no change to Ben's lifestyle, spending or financial outlay, but thanks to smart money management, he's able to save thousands of dollars per year.
How to bank $200,000 (or more) using an offset account
The money Ben saves every year can be redeployed into debt repayment, with extraordinary results.
It's not just that it will allow him to pay off his mortgage/s or other debts sooner; it's the fact that he will quite literally save six-figures worth of wasted interest and mortgage repayments by doing so.
Even if he doesn't pay a single extra dollar from his own personal income, other than the savings made from using an offset account, into his loan, the overall benefit is significant. In fact, some mortgage holders could save over $250,000 during the life of their loan.
Here's how it works:
Assuming Ben pays the credit card balance in full each month at the end of the free interest period and doesn't have any other debts.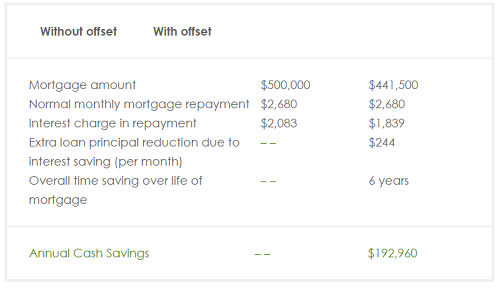 ~ Assuming repayments at 5% interest rate on 30-year loan, with an ongoing offset of $58,500. No additional savings or increases in salary are assumed.
How does Ben save such a significant sum?
Ben pays a monthly mortgage of $2,680, including principal and interest. Six years' worth of saved mortgage repayments equates to the following:
$2,680 x 12 months = $32,160
$32,160 x 6 years = $192,960
By leveraging offset and fast-tracking his mortgage repayments, Ben will be saved from making $192,960 worth of mortgage repayments.
The above figures demonstrate that just by doing the minimum and using an offset account, with no additional savings, it's possible to save hundreds of thousands of hard-earned dollars!
Now, if Ben were to compound his efforts and add to the offset account over the loan term, the saving will be much greater.
About the Blogger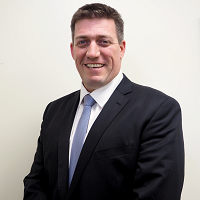 Neil Carstairs is the founder of Mortgage Corp, an active property investor and awarding winning MFAA credited finance broker with more than 10 years mortgage broking experience. Currently, Neil is one of only 19 MFAA Certified Mentors in VIC/TAS region.
Neil specialises in helping successful professionals and investors build & grow your property portfolio through strategically structuring your loans for long-term investment success. He is known for his strategic approach to investing and ability to reach fast, successful outcomes for clients where his industry peers could not.
Thanks to his dedication to clients' success, Neil has consistently receive 5 star client reviews and has been called, by his clients, "Miracle Mortgage Man" "Trusted Friend, Mentor and Educator" "God-send"… 

To find out more about Neil Carstairs and Mortgage Corp, visit www.mortgagecorp.com.au
Thank you.

Your enquiry has been sent to a local Aussie Mortgage Broker.

We will be in contact with you shortly.
Opps.

error occurred.
Unfortunately Aussie cannot attend to your home loan related enquiry at this stage as you must be a citizen or permanent resident.
Do you need help finding the right loan for your investment?
What Aussie do for you:
Give expert mortgage advice to help you find great investment loan deals
Help you maximise return by lowering financing costs
Save you time and effort by helping with the paperwork

Top Suburbs
Highest annual price growth - click a suburb below to view full profile data:
latest news