How many times have you glanced at an advertised property and not given it a second look thanks to its 'ugly' exterior?
Have you ever stopped to consider the possible opportunity you're passing up?
If a property is in a good location and has capital growth prospects, you shouldn't discount the property just because it's ugly.
Sometimes you need to think creatively and dig a little deeper to uncover a hidden gem.
Numerous times I've had clients pass up an opportunity because they were put off by how a property looked.
They were unable to see past the rough exterior — the 'ugly duckling'.
This kind of short sightedness has prevented many investors from adding a high-performing property to their portfolio.
This rash judgement — made purely on face value — shows an underlying flaw in their investment strategy.
Judging a property's merits through emotion not numbers is limiting and counterproductive to long-term wealth creation.
If an ugly property ticks the boxes in terms of location, price, capital growth and possible rental returns, then you can't discount it's potential. It's likely you can turn it into a swan.
If the property has good bones, there is money to be made if you have a clear vision of what can be feasibly done to boost it's appeal, and can put that vision into action.
A little money and planning at the beginning can yield big results in terms of rental income and eventually in reselling the property.
The beauty of the ugly duckling scenario is that you can potentially pick up an investment property for a reduced rate.
But you need to make sure you don't just buy anything.
You need to ensure the house is structurally sound and won't cost you a fortune in renovations. Or else you risk overcapitalising on your investment.
Know which home improvements will increase the property's value and be sure to focus on these projects first.
Upgrading the kitchen and bathroom, painting the exterior, adding additional storage and creating a deck or carport can go a long way to increasing the appeal of the property to renters and for future resale opportunities.
Enhancing the street appeal or reconfiguring a poor layout can also really help in boosting the property's value.
The goal of the renovation is to make the property welcoming and homey, and to give that 'ready to move in' look and feel.
Renters are looking for a place to live and want to picture themselves in a home.
If they can picture themselves living in your property, they will pay to live there.
Investors need to see the opportunity in a property — both the rental opportunity and the re-sale opportunity. As always, the decision making process should be based on numbers and facts — never emotion.
With a little bit of effort, you can turn an ugly duckling into a swan and reap the rewards in the process.
About the Blogger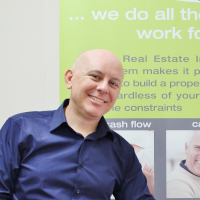 Paul Wilson is an Independent Property Investing Expert who's been educating and coaching investors since 2001. Author of 7 Deadly Mistakes Property Investors Make and How to Avoid Them, he also manages www.educatingpropertyinvestors.com.au, www.wefindhouses.com.au, and www.wefindfinance.com.au. 
Through his books and websites, Paul provides valuable, independent guidance and support by teaching strategies on how you can invest successfully, while protecting yourself from the common mistakes that trap many investors from reaching their full potential.
Paul doesn't promote cookie cutter strategies, instead he demonstrates how you can create wealth as a property investor regardless of your budget, location, strategy and risk profile. Paul makes his home on the Gold Coast and spends his leisure time enjoying adventures, surf and sun with his wife and five children. Protect and grow your portfolio with knowledge. Contact Paul today for a complimentary consultation: 1800 690 890 and ask for Paul, or email [email protected]
Thank you.

Your enquiry has been sent to a local Aussie Mortgage Broker.

We will be in contact with you shortly.
Opps.

error occurred.
Unfortunately Aussie cannot attend to your home loan related enquiry at this stage as you must be a citizen or permanent resident.
Do you need help finding the right loan for your investment?
What Aussie do for you:
Give expert mortgage advice to help you find great investment loan deals
Help you maximise return by lowering financing costs
Save you time and effort by helping with the paperwork

Top Suburbs
Highest annual price growth - click a suburb below to view full profile data: