Charles Tarbey, Owning and managing director, CENTURY 21
{{youtube id="gpwjOmJiIHo?rel=0"}}
If you're considering making an offer to purchase a property, there are a few things you can do to beat other potential buyers.
When you're negotiating to purchase a property the most important part of the transaction is you need to be ready. You need to be in a position to sign a contract there and then. Most of the important transactions are done on the spot and if you want something to happen, you need to be able to say to the agent that you'll sign a contract now at a set price and pay the largest amount of deposit you can. If I were to pay 10% deposit, that's showing that I'm serious. So if I say to the agent "I'll sign a contract, I'll pay the 10% now, you go and present my offer today or I'll wait in your office while you do it", that has a very, very powerful message to the seller. And the seller then knows that if they are willing to sign a contract on that spot, they're going to get a result today.
Listen to other instalments of The Smart Property Investment Show:

Episode 74:
How this investor plans to double his portfolio in 10 years
Episode 73:
Bad builders: how this investor bounced back
Episode 72:
Policy changes to interest-only loans: what buyers need to know
Episode 71:
How this 'stubborn' investor recognised a property lemon
Episode 70:
How this investor complements each property and balances his portfolio
Episode 69:
Are you a 'lazy' investor? Consider the benefits to working with a financial team
Episode 68:
Special episode: audience discussion live from the Property Buyer Expo
Episode 67:
Don't get 'caught up in the now': an expert reveals his tips for success
Episode 66:
Wealth distribution: how should you manage your money?
Episode 65:
Real estate agents: what separates the good from the bad?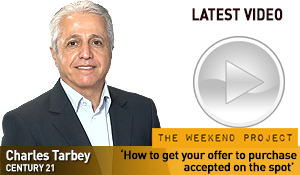 Written by

Staff Reporter