The 'short back-n-sides' makeover: We tidy ourselves up with a haircut for a job interview or a special occasion so it makes perfect sense to do pretty much the same with our property to make it stand out from the crowd!

Blogger: Paul Eslick, Justin Eslick & Geoff Doidge, The Reno Kings

We've lost count of the number of places we've seen that don't have a house  - they have a jungle.  We've seen the forest but - where's the house? No kidding!  
Walls overgrown with aggressive vines curling in through windows, lifting weatherboards, growing through cracks in brickwork, splitting walls, growing along gutters and you can't even see a backyard.
Trees lifting houses from underneath, roots snaking over the surface of the backyard and lifting concrete slabs, filling drains and sewers, so much that even the water can't get through, let alone anything else.
Get rid of dominating trees and bushes. Target oddly-placed bushes or plants that don't give any 'shape' or 'story' to the garden.  Don't be tempted to keep a straggly old bush, shrub, or tree, purely because it is 'established'.  How often have you seen a plant that's past its use-by-date lovingly trimmed and left there, even if it still looks lop-sided, ugly and blocks the view of the house? 
By all means save a tree or shrub and work a new garden around an existing specimen if it has potential, appealing aesthetics, gives privacy or a shady spot, but if it doesn't work, should never have been there in the first place, or is nearing the end of its' life expectancy – get rid of it. 
If it has potential and you have a green thumb and can save it, re-plant it elsewhere. You can always compensate for removing vegetation by planting new vegetation.
Do this clearing and pruning to open up the view of the house. The yard will look larger and the house will be lighter and brighter. The drains will work again. Less is more when it comes to most gardens.
In preparation for your 30 minute makeover, do the following:
1. Walk across the street and look at, even take a photo, of your house from the front and a couple of angles up and down the street and see how it really looks.
2. Drive around your local area (on the way to or from work) and observe the gardens that look really nice.  Flick through some magazines – or some websites – at photos of stylish and appealing gardens.
3. Figure out what the differences are and that will give you your starting point to remove or prune your excess vegetation.
4. If you're planning to remove any trees above head height, they should most likely be removed by specialists and just check that there are no council regulations on removing trees in your area.
5. In your 30 minute makeover, slip-slop-slap, grab a litre or two of water and cut out any offending small trees, bushes and shrubs that you are capable of removing.  Buy, hire or borrow a mulcher to reduce the clippings to garden bed mulch or have the professionals remove it if it's too large for a small machine to handle.
Your tidied front yard will look neat, tended and ready for the next installment – the next 30 minute makeover next weekend!
---
About The Reno Kings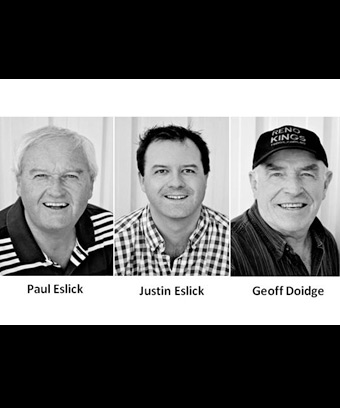 The Reno Kings have been successful in property for over 35 years – and it hasn't been by taking risks!  And for 12 years now they've been showing people from all over Australia how to buy exceptional property deals, cleverly add tremendous value to residential properties through cosmetic renovation and development and to safely and successfully create wealth by building a property portfolio. 
Justin has been teaching alongside Geoff and Paul for the past 5 years and his town planning and professional buying skills are so very powerful that they won't touch a property without Justin first giving it the 'go-ahead'.  Others have come and gone, but the Reno Kings have always been there, powering along, using their safe and secure formulas to build up $40million worth of property. 
Thriving – not just surviving – through 35 odd years of property cycles proves that what they're doing is right!   And that's why they get so many questions from property investors and why the media always go to them for help on property and renovation stories. The Reno Kings are the trusted name in property education.
Top Suburbs
Highest annual price growth - click a suburb below to view full profile data:
latest news