Have you ever wondered what to do about that rather loud wallpaper in your investment property?  Although wallpaper is apparently making a comeback, the type of wallpaper we're talking about doesn't fall into the 'fashionable' category!

Blogger: Paul Eslick, Justin Eslick & Geoff Doidge, The Reno Kings

It may have been fashionable 30 – 40 – 50 years ago, but now it's just an ugly problem.  But who has time to strip off a house full of wallpaper? Or even a roomful for that matter. 
The good news is – you don't necessarily have to.
You can probably paint right over it.
It's very likely that the wallpaper is peeling off in areas – at the joins and maybe at the edges.  This will need to be glued securely down and well and truly dry before painting.  Use a small artist's paint brush and a suitable paper glue – work the glue well under the flap to make sure it can adhere well back onto the wall.  Do this for all areas that are lifting.
Make sure the wallpaper is dust free – give it a brush down or vacuum or a gentle clean if it is stained with cigarette smoke.  If it has a very dark or heavily patterned design you may need to undercoat. Then using your usual colour scheme (remember – light and bright is always best) simply paint over the wallpaper. 
The professionals may roll their eyes in horror at this approach, and let's face it, you probably wouldn't do this on your own home (unless it's your very first home and you can barely afford a tin of paint, perhaps) but for a rental property this solution is wise, wise, wise. 
Is a tenant going to say "I couldn't possibly rent this house - they've painted the wallpaper!"?  No – they're going to see a fresh, neat and bright house that's fit to live in.  If you spend money hiring all the wallpaper stripping equipment and spend hours and hours laboriously stripping off the wallpaper – you're not going to get any more rent for the property – but the process will have taken you valuable time.  And time equals money in your property business.
Paul Eslick has a few properties that he painted in this way 20 years ago – and the wallpaper is still just fine and the paint job is light and bright and fresh!
Furthermore – in the UK (and probably other areas of the world for all we know) it is possible to purchase 'embossed' wallpaper – specifically for the purpose of applying to walls (even ceilings) to be painted over in a paint colour of choice.  Wallpaper, in fact, hides all sorts of imperfections in walls.
Don't waste your valuable time stripping – just paint!
---
About The Reno Kings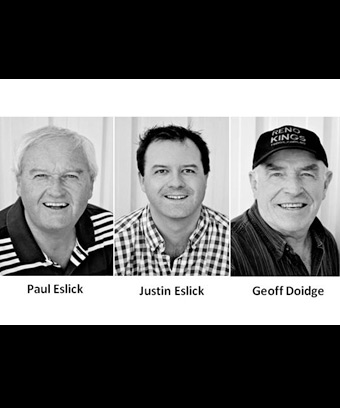 The Reno Kings have been successful in property for over 35 years – and it hasn't been by taking risks!  And for 12 years now they've been showing people from all over Australia how to buy exceptional property deals, cleverly add tremendous value to residential properties through cosmetic renovation and development and to safely and successfully create wealth by building a property portfolio. 
Justin has been teaching alongside Geoff and Paul for the past 5 years and his town planning and professional buying skills are so very powerful that they won't touch a property without Justin first giving it the 'go-ahead'.  Others have come and gone, but the Reno Kings have always been there, powering along, using their safe and secure formulas to build up $40million worth of property. 
Thriving – not just surviving – through 35 odd years of property cycles proves that what they're doing is right!   And that's why they get so many questions from property investors and why the media always go to them for help on property and renovation stories. The Reno Kings are the trusted name in property education.
Top Suburbs
Highest annual price growth - click a suburb below to view full profile data:
latest news