With all the wet weather we have been having, mould and mildew have been spreading their ugliness all over properties across Australia. Here's a quick fix for you that will have your property glowing in no time.

Blogger: Paul Eslick, Justin Eslick & Geoff Doidge, The Reno Kings

Typically, you'll find it on south-facing walls that don't get much light, under eaves and in shadowed areas such as on decks. It looks horrible, and it looks like an almighty job to clean. In the worst cases, you may even be thinking a repaint is in order. Drop that paint brush! Cleaning mould and mildew is easy, cheap and effective; you just need to know how.
By far and away the most cost-effective cleaning product is pool chlorine. Buy this at any good pool supply store - about $4 for five litres. Don't get sucked into buying mould cleaner and patio cleaner. These are effectively the same as chlorine, only five times the price.
To clean, mix up a strong brew in a bucket of about one third chlorine and two thirds water. Put drop sheets down on all exposed timbers (i.e. an oiled deck) and over plants (we learnt the hard way that plants don't like chlorine). Put on some old clothes (they won't be the same colour by the time you are finished) or a protective suit, goggles and a mask, then grab an ordinary house broom and start scrubbing! The broom will eliminate the need for a ladder in a lot of cases.
You don't need to scrub much, in fact the mould can still be there. Leave it for 10 minutes and then hose it off. Hey presto - gone! In the small number of cases where there is still mould, simply repeat once more and your house will be sparkling clean. You can clean an average house in less an hour, even half an hour if you get to it (or get a mate or the kids to lend a hand!).
---
About The Reno Kings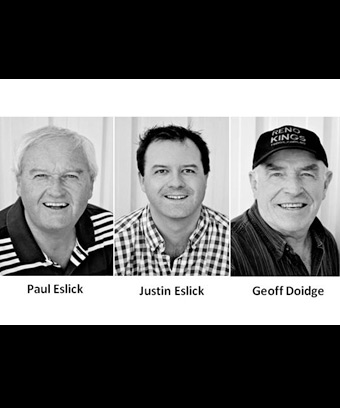 The Reno Kings have been successful in property for over 35 years – and it hasn't been by taking risks! For 12 years now they've been showing people from all over Australia how to buy exceptional property deals, cleverly add tremendous value to residential properties through cosmetic renovation and development, and how to safely and successfully create wealth by building a property portfolio. 
Justin has been teaching alongside Geoff and Paul for the past five years and his town planning and professional buying skills are so very powerful that they won't touch a property without Justin first giving it the 'go-ahead'. Others have come and gone, but the Reno Kings have always been there, powering along, using their safe and secure formulas to build up $40million worth of property. 
Thriving – not just surviving – through 35-plus years of property cycles proves that what they're doing is right! And that's why they get so many questions from property investors and why the media always goes to them for help on property and renovation stories. The Reno Kings are the trusted name in property education.
Top Suburbs
Highest annual price growth - click a suburb below to view full profile data:
latest news