Is shabby carpet or torn vinyl covering timber flooring in your property? Vinyl is considered to be quite an outdated option for floor coverings nowadays and depending on many factors such as who the residents are, the amount of foot traffic within the house, family pets or allergies, carpet may not be the best option for your property either.
Blogger: Paul Eslick, Justin Eslick & Geoff Doidge, The Reno Kings

General fashions of flooring in Australia over the years have found that in a lot of instances beautiful hardwood or pine timber floor boards are hiding beneath existing floor coverings. By lifting the corner of floor covering in all of the rooms of a house you will be able to determine if you have timber flooring, that with just a simple sanding and coating of floor polish will have it looking like a million dollars.
This technique is a classic Reno Kings cosmetic renovation – where the cost to do the renovation pays for itself 3x - 5x times in added value – and probably at the higher end.
Most large building contract equipment suppliers will have floor sanders and edge sanders available to hire. You do not need previous experience to operate the machinery and the cost of hiring the equipment is very reasonable. The companies that hire the equipment out will be able to provide advice on how their machines operate and the right type of sandpaper you should be using. It's not a highly 'technical' job, so if you like to be hands-on definitely give it a go. However it's not a 'light' job – it's messy, noisy, smelly and physicially pretty demanding (the edge sanding in particular really gives your thighs a workout…). If you are uncomfortable undertaking this work on your own, a professional floor sander can usually be contracted to complete the job with costs varying from $25 to $30 dollars per m2.
Before sanding, nail heads in the timber flooring will need to be punched down to below the timber surface level and filled with timber putty in an appropriate colour. If the floors have been polished before this may not be such a huge job, but typically this job can't be avoided. Protruding nail heads will rip sanding belts to shreds.
The few simple rules of sanding floors are to always sand with the grain of the wood not against it. As soon as the sanding disc is touching the floor ensure you keep the sander moving. If the machinery is kept stationary you run the risk of it "digging" into the floor. A sander won't be able to get into corners or close enough to the floors edging, so for that you will need to use an edge sander – also from the hire firm.
Before applying the first coat of polish some sources suggest wiping down the entire area using a large cloth with generous amounts of methylated spirits. We don't do this and find we get a good result all the same. A thorough vacuum is necessary though – the floor and all window sills, door frames etc – anywhere sanding dust can drop from.
Start with applying polish to the edges with a brush and coat the open areas with a roller. Some prefer a lamb's wool applicator and this method will generally eliminate bubbles in the finished product and give the floor a fantastic finish. There are 2 particular finishes you can go for - gloss and satin.
High gloss is particularly elegant and striking, but will show every mark, pet hair, scratch and speck. A satin finish will still look attractive and appealing but show fewer marks and may be the better choice for a rental property.
Stick to the recommended recoating and drying times on the container and keep the room/house very well ventilated. A sanding screen disc can be used prior to the final coat to debur any timber fibres that may have been released, so check with the hire company and the product instructions and retailer for the appropriate approach for your floors and product.
You can save money by sanding and polishing your timber floors yourself, but always remember when budgeting for your project to include the costs of hire equipment, safety gear and other supplies as well as the time it takes you.
---
About The Reno Kings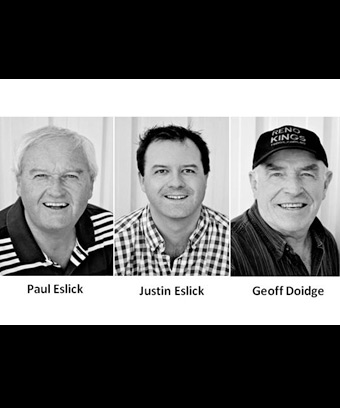 "From over 70yrs combined experience & $40million in property holdings, Reno Kings Paul Eslick, Justin Eslick & Geoff Doidge show you how to make money in property."
The Reno Kings have been successful in property for over 35 years – and it hasn't been by taking risks!  And for 12 years now they've been showing people from all over Australia how to buy exceptional property deals, cleverly add tremendous value to residential properties through cosmetic renovation and development and to safely and successfully create wealth by building a property portfolio. 
Justin has been teaching alongside Geoff and Paul for the past 5 years and his town planning and professional buying skills are so very powerful that they won't touch a property without Justin first giving it the 'go-ahead'.  Others have come and gone, but the Reno Kings have always been there, powering along, using their safe and secure formulas to build up $40million worth of property.  Thriving – not just surviving – through 35 odd years of property cycles proves that what they're doing is right!   And that's why they get so many questions from property investors and why the media always go to them for help on property and renovation stories.  The Reno Kings are the trusted name in property education
Top Suburbs
Highest annual price growth - click a suburb below to view full profile data:
latest news