This week we asked our awesome assistant, the Magnificent Miss M, who currently rents, what she thought were the best renovations and improvements to make to a rental property to ensure a quality tenant and a minimum vacancy…

Blogger: Paul Eslick, Justin Eslick & Geoff Doidge, The Reno Kings

"The Reno Kings' clients are typically home owners with multiple property investments or home owners who dream of owning multiple investment properties. A lot of articles written focus on what the investor wants to achieve and how they can maximise their profits with their investment properties.
To add a different perspective to this week's blog I have given my views on the needs of the tenant and provided a focus on what the tenant looks for in a property, as this will also benefit the keen property investors out there.
As a tenant myself I have always tried to get longer leases for my tenancy. Not necessarily because I don't want my rent to rise, in fact I accept that it's inevitable that rents will rise. I prefer long tenancies because it gives me a sense of security knowing I am able to stay in the house for a longer period of time instead of possibly having to move out only 6 months after moving in.
Animals have always been a big part of my family, so pet friendly homes are always preferred over homes that don't allow animals. This would also include a sheltered outdoor area so that my pets can get out of the weather if need be.
Built-in storage and space saving options are very handy. There is nothing worse than having no space to store winter clothes, blankets, camping gear...whatever it may be. Built in shelving in cupboards is always an added bonus.
Garden sheds to store garden equipment, kids bikes etc are an excellent addition to your home. My current home doesn't have a garden shed (yet) and as a result all of these items are placed in my garage which means we don't have enough space for our cars.
Air conditioning and ceiling fans are an absolute necessity also. No matter if you are a tenant or an investor we all like to feel comfortable in the crazy weather our country dishes out at times. It's my opinion that a house with A/C and/or ceiling fans will always be rented out faster than one that doesn't have it.
When searching for my next home I always prefer homes that are fully fenced and have security screens. Working long hours away from the home I want to know that necessary precautions have been taken to deter unwanted visitors and keep my worldly possessions safe.
Some of these options may be very obvious to most people, but if your investment house has some or all of these extras then your home will be tenanted faster than others in your area who don't have the added 'comforts of home'."
---
About The Reno Kings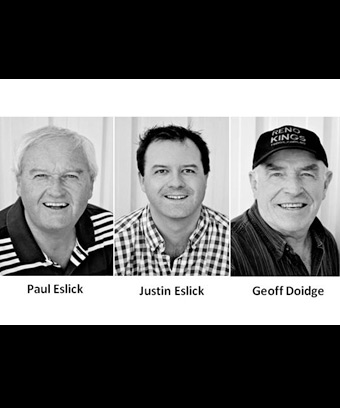 "From over 70yrs combined experience & $40million in property holdings, Reno Kings Paul Eslick, Justin Eslick & Geoff Doidge show you how to make money in property."
The Reno Kings have been successful in property for over 35 years – and it hasn't been by taking risks!  And for 12 years now they've been showing people from all over Australia how to buy exceptional property deals, cleverly add tremendous value to residential properties through cosmetic renovation and development and to safely and successfully create wealth by building a property portfolio. 
Justin has been teaching alongside Geoff and Paul for the past 5 years and his town planning and professional buying skills are so very powerful that they won't touch a property without Justin first giving it the 'go-ahead'.  Others have come and gone, but the Reno Kings have always been there, powering along, using their safe and secure formulas to build up $40million worth of property.  Thriving – not just surviving – through 35 odd years of property cycles proves that what they're doing is right!   And that's why they get so many questions from property investors and why the media always go to them for help on property and renovation stories.  The Reno Kings are the trusted name in property education.
Top Suburbs
Highest annual price growth - click a suburb below to view full profile data:
latest news