When it comes to your rental property, you as a landlord have a general responsibility to your tenant to ensure it is in good condition. It's not just about being 'clean and tidy' - workable locks to provide adequate security for your tenants are also essential.

Blogger: Paul Eslick, Justin Eslick & Geoff Doidge, The Reno Kings

As a landlord, installing security features in your rental property can have many advantages. Besides potentially saving on your insurance premiums, you are also likely to attract a better class of tenant - one who is likely to stick around longer if they feel safe in their home. Rental asking prices can be increased as the renter is going to benefit from having the added sense of security at home.
SECURITY DOORS
Security doors add enormous appeal to a security conscious potential tenant. Not only will they aide in deterring burglars, they make doors, particularly glass panel doors harder to smash which reduces the likelihood of property damage. A security door will ventilate the home in the warmer months while keeping those annoying mosquitoes and flies outside.
SECURITY SCREENS ON WINDOWS
Security screens on the windows of your property will also help to deter unwanted visitors as doors and windows are the most common entry points for intruders. Unsightly bars and grilles on your windows don't add any appeal to your property whatsoever. Security screens will definitely add aesthetic appeal to your property.
SENSOR LIGHTING
Adequate lighting such as sensor lights can be a very effective way in providing a little extra security outside your home at night. If an intruder was within the boundaries of your home and close enough to activate the sensor lights they are less likely to hang around in the fear they will be seen.
LOCKS
This could be as easy as servicing and replacing old locks to ensure better security for your rental property. Old, worn or broken locks could be easily compromised. If the locks aren't able to be maintained then replacement will probably be necessary. Using deadlocks on external doors is also a very smart idea. Window locks will also give your tenant added piece of mind.
ALARMS
A security alarm system installed in the property is sure to hold a lot of appeal to prospective tenants. This doesn't necessarily mean you need to spend thousands on an alarm system, alarms can be wired models, wireless, self monitored or they can be monitored by selected security companies.
These are just a few ways you as a landlord can improve your rental properties security. Be sure to seek professional advice if you are ever in doubt of your obligations as a landlord, and also the obligations of your tenants.
---
About The Reno Kings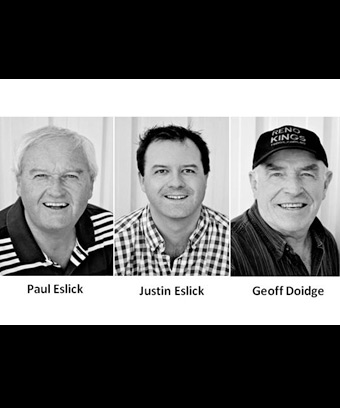 "From over 70yrs combined experience & $40million in property holdings, Reno Kings Paul Eslick, Justin Eslick & Geoff Doidge show you how to make money in property."
The Reno Kings have been successful in property for over 35 years – and it hasn't been by taking risks!  And for 12 years now they've been showing people from all over Australia how to buy exceptional property deals, cleverly add tremendous value to residential properties through cosmetic renovation and development and to safely and successfully create wealth by building a property portfolio. 
Justin has been teaching alongside Geoff and Paul for the past 5 years and his town planning and professional buying skills are so very powerful that they won't touch a property without Justin first giving it the 'go-ahead'.  Others have come and gone, but the Reno Kings have always been there, powering along, using their safe and secure formulas to build up $40million worth of property.  Thriving – not just surviving – through 35 odd years of property cycles proves that what they're doing is right!   And that's why they get so many questions from property investors and why the media always go to them for help on property and renovation stories.  The Reno Kings are the trusted name in property education.
Top Suburbs
Highest annual price growth - click a suburb below to view full profile data:
latest news