The idea of having a beautiful sparkling pool at home to cool down on those long summer days is a very enticing thought, isn't it? Prospective tenants will think so too but unfortunately as the owner it could end up being your worst nightmare.

Blogger: Paul Eslick, Justin Eslick & Geoff Doidge, The Reno Kings
If you are considering purchasing an investment property with an existing pool or you are considering having one installed there are lots of facts and potential risks you should be aware of beforehand. To name just a few...
Initial Costs
Let's face it, a major addition to your home such as a pool is going to be expensive. For an in ground pool you could be looking at a cost anywhere from $20,000 to $50,000, and that's just for the pool.
Depending on your set up you would also need to factor in budgets for landscaping, pool fencing, tanks, pool cleaners, filters, covers and chemicals.
Ongoing Maintenance
So your pool is installed and everyone is able to enjoy it and if you're fortunate enough maintenance won't be an issue for a long time, however there will never be an "appropriate time" when repairs need to be made. The truth is, cracks or leaks in your pool are going to be an expensive problem to rectify.
After spending so much money to have the luxury of a pool in your backyard, you would expect that it remain the sparkling picture of beauty you left for your tenants but beware, pools take a lot of time and upkeep to keep them in pristine condition.
Hopefully your tenants share your opinion otherwise you could potentially end up with a smelly, green and bug infested swamp where your pool once was.
Insurance Risks
You will also need to be aware that if someone should happen to have an accident in the vicinity of the pool area you could potentially be up for a hefty amount in Insurance costs.
Is your portfolio and everything you have worked hard for worth that?
Current Legislation
Due to the growing numbers of toddlers and young children drowning, legislation for pool fencing is being tightened and applied.
If you are not compliant with current pool fencing laws you could face a fine as large as $16,500. These requirements are not unreasonable, they are definitely logical and for a lot of pool owners this probably wouldn't be a problem however for the uninformed it could be a major headache.
Also be aware that to lease or sell a house in Queensland with a pool, a pool safety certificate is required.
Either way you decide to go, it's so important to be aware and do your research, before making a final decision. Sure, the convenience of having a beautiful pool right in the back yard is bound to have its advantages but a trip to the local pool may be just as easy when you consider the potential problems and costs that could be involved in backyard swimming pool ownership.
---
About The Reno Kings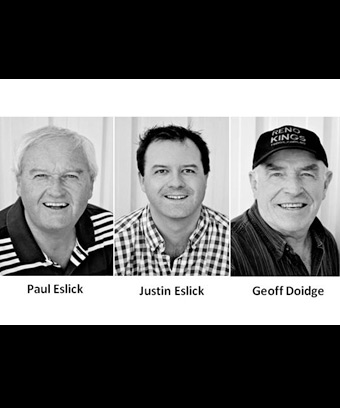 "From over 70yrs combined experience & $40million in property holdings, Reno Kings Paul Eslick, Justin Eslick & Geoff Doidge show you how to make money in property."
The Reno Kings have been successful in property for over 35 years – and it hasn't been by taking risks!  And for 12 years now they've been showing people from all over Australia how to buy exceptional property deals, cleverly add tremendous value to residential properties through cosmetic renovation and development and to safely and successfully create wealth by building a property portfolio. 
Justin has been teaching alongside Geoff and Paul for the past 5 years and his town planning and professional buying skills are so very powerful that they won't touch a property without Justin first giving it the 'go-ahead'.  Others have come and gone, but the Reno Kings have always been there, powering along, using their safe and secure formulas to build up $40million worth of property.  Thriving – not just surviving – through 35 odd years of property cycles proves that what they're doing is right!   And that's why they get so many questions from property investors and why the media always go to them for help on property and renovation stories.  The Reno Kings are the trusted name in property education.
Top Suburbs
Highest annual price growth - click a suburb below to view full profile data:
latest news