Maitenance, repairs and renovations are part and parcel of having a property portfolio, but these activities need not break the bank.

Blogger: Paul Eslick, Justin Eslick & Geoff Doidge, The Reno Kings
If you own a rental property, you will making continuous repairs and at the very least carrying out regular maintenance, if not straight out renovations to add value and increase rent. But you're not going to want to spend a lot of money on those repairs/maintenance/renovations. What you may not know is that there are plenty of ways to cut back on the costs while still getting quality work and improvements made that will increase the value of the property and make it even more desirable to potential renters.
Remember that you're working to make the property better without adding too much cost; it's all about the bottom line, after all.
Get a Discount Card
If you do a lot of shopping at a particular home improvement store you're going to want to look into a discount card. Most of these stores have a card that will give you points for every dollar you spend or they will give you a certain percentage off or special discounts when you use your card. All of these things will help you to save a little money each and every time you make a purchase to renovate your home.  Even better, get a trade card if you can.  Usually what is needed is an ABN to show you are a valid business. 
Use Value Renovations
There are several renovations that you can make which will cost you very little money but will increase the value of your home exponentially. These are the classic Reno Kings 'cosmetic renovations'.  The key is to locate the things on the property that require or could use updating that are less expensive. Painting, polishing timber floors, general rigorous tidying & cleaning, new front fence and kitchen and bathroom upgrades are always a good idea for a property in need of a facelift.  Things like careful landscaping or adding a deck can also be inexpensive to complete but excellent for the value of your property.
Hire Renovation Tools Instead of Buying
When you purchase tools it may seem like you're getting the better deal in the long run. You probably figure that you'll use those tools enough times to make the cost worth your while. The truth of the matter is that you're probably not getting that great of a deal. When you purchase tools chances are you aren't going to purchase the best quality if you're following the guideline of budget renovations. Even if you think you're going to get some value back from repeated use you're probably not going to want to spend a fortune.
So what do you do? Use your money to rent excellent quality tools rather than buying moderate quality. When you rent you'll get something that is worth more for less money. You'll get your money's worth out of renting faster than you will when you purchase. Don't get caught up in owning everything to make repairs.
The contradiction to this is if you are going to be the hands on maintenance and repair person on a very regular basis.  If you are handy and know what you're doing, you'll have blown a raspberry at this piece of advice already!  
Hiring makes a lot of sense for the part-timer who may or may not use the tools again.  If you don't have a plan for the next time you'll use the tools, don't think about buying them.  Floor sanding equipment, airless sprayers, trailers, chainsaws, pressure washers, serious power tools are all ideal tools to hire. 
Hired tools & equipment are also maintained and cleaned and ready to use when you need them… will your own be?
Use Discount Materials
If you're planning to purchase materials for a renovation you will want to make sure you're getting everything you can for the smallest amount of money. Discounted materials are not necessarily worse quality. The key is to look over the materials carefully and determine whether they are still going to work for what you need or whether they are going to cause harm, additional upkeep or extra work because they are inferior. So look at the discount racks and see how much you can find. If the materials you're using aren't going to be visible it doesn't matter as much if the wood grains match or even if the colors match. Keep in mind what the materials are going to be used for and use that to determine what specific materials you actually need.
Get the Contractor/Trade Discount
In some areas and stores it's not possible to get a contractor/trade discount unless you're actually a tradesperson. You'll want to check into where you are and find out whether you can get the discount for yourself. If you can then make sure you're getting this discount on all of your materials. You'll get much more for your money and you'll likely be getting quality materials. Just shop around for the right store for all of your needs.
Don't Special Order
If at all possible you want to make sure you're purchasing the items you need directly off the shelf at your local stores. You don't want to "special order" anything because special ordering will most likely cost more money. You'll likely have to pay the original price for the item plus any shipping costs and possibly even additional costs just because the materials had to be special orders. Try to be less particular about what you're building or renovating and purchase as much of your supplies simply from the shelves of the store and not out of a catalogue.  The store's "end of stock" items may even come with a more attractive price tag…
So give some long, hard thought to how you go about your renovations, routine maintenance and repairs on your rental property.  Every dollar saved is a dollar earned – and it's a dollar in your pocket!
---
About The Reno Kings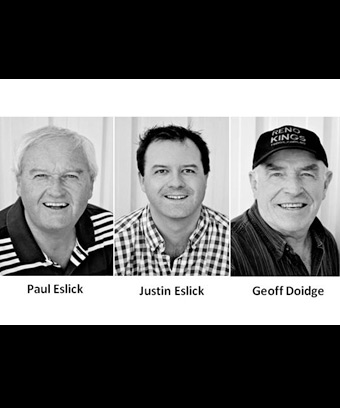 "From over 70yrs combined experience & $40million in property holdings, Reno Kings Paul Eslick, Justin Eslick & Geoff Doidge show you how to make money in property."
The Reno Kings have been successful in property for over 35 years – and it hasn't been by taking risks!  And for 12 years now they've been showing people from all over Australia how to buy exceptional property deals, cleverly add tremendous value to residential properties through cosmetic renovation and development and to safely and successfully create wealth by building a property portfolio. 
Justin has been teaching alongside Geoff and Paul for the past 5 years and his town planning and professional buying skills are so very powerful that they won't touch a property without Justin first giving it the 'go-ahead'.  Others have come and gone, but the Reno Kings have always been there, powering along, using their safe and secure formulas to build up $40million worth of property.  Thriving – not just surviving – through 35 odd years of property cycles proves that what they're doing is right!   And that's why they get so many questions from property investors and why the media always go to them for help on property and renovation stories.  The Reno Kings are the trusted name in property education.
Top Suburbs
Highest annual price growth - click a suburb below to view full profile data: