In order to avoid overcapitalsiing during your renovation, you may need to track down a few bargains.

Blogger: Paul Eslick, Justin Eslick & Geoff Doidge, The Reno Kings
If you're in the process of renovating a property or you are thinking about starting a home renovation project you are always on the hunt for a bargain or two. A lot of people rely on advertising in newspapers and on television as a source of finding specials to try and save you as much money as possible at the end of the day.
We have done a bit of research in finding other ways and means to "think outside the box" and find those bargains you've been looking for.
Second Hand Stores/Op Shops
A great way to find a bargain! You never know what hidden treasures you will find in these shops, in fact our very own Sonya Matthews from the Reno Kings Team was recently in one of her favourite op shops and came across a toilet and hand basin. They were brand new, still in the box and were being sold for a song! Sure, you wouldn't usually find these types of items in an op shop but it just goes to show you that if you're in the right place at the right time and are on the lookout for a bargain, it's possible to find anything.
Gumtree and Ebay
Always do some online browsing, with new listings being posted constantly you have to be quick if you want to get that bargain. While it's very convenient to shop in your own lounge room it can however sometimes be frustrating to find the right treasures in the right state or within pick up distance to where you're located. Always wise to have a look though.  The advantage of this method of buying is you can usually monitor what prices certain items sell for – so you know how much you're likely to have to pay for something (and the condition it's in) so can assess whether to buy new or second hand, and you'll also know when to move fast when you see a bargain.
Garage Sales
Never serial garage sale shoppers ourselves, but we do know of many people who have found some absolute ripper bargains at those local weekend garage sales. It just goes to show you that sometimes one man's trash is another man's treasure. You can find upcoming garage sales in your area by checking your local paper or community notice boards.
Auctions
A lot of people think that auctions are for selling vehicles. These days that's not the case at all. If you do your research you will find auctions that are selling off many items that would be very handy for your renovation project. It's all about being in the right place at the right time.  A lot of them are online auctions as well these days – you don't even necessarily have to go along.
Markets
Markets are a fantastic gold mine to find those treasures you have been on the hunt for but haven't wanted to pay full price for. Arrive early and ensure you have adequate transport to enable you to take the item away with you at the time. Markets are only open for a limited time and usually over a weekend so you will need to be prepared in case you find what you're looking for.  Landscaping plants in particular can be worth looking out for at markets.
Recycling Centres
Sure, people go here to dispose of rubbish and unwanted items but most of the recycling centres have sections where you can purchase perfectly good white goods, building materials, power tools, the options are endless. Do yourself a favour and take a look. You'll never, never know if you never, never go.  Never heard of these?  Just Google "Recycling centres " and see what appears!
Armed with these few ideas we hope we've given you some food for thought and have helped you with some ideas on where to find a great bargain at a great price.
---
About The Reno Kings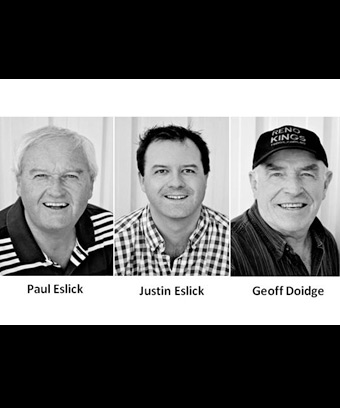 "From over 70yrs combined experience & $40million in property holdings, Reno Kings Paul Eslick, Justin Eslick & Geoff Doidge show you how to make money in property."
The Reno Kings have been successful in property for over 35 years – and it hasn't been by taking risks!  And for 12 years now they've been showing people from all over Australia how to buy exceptional property deals, cleverly add tremendous value to residential properties through cosmetic renovation and development and to safely and successfully create wealth by building a property portfolio. 
Justin has been teaching alongside Geoff and Paul for the past 5 years and his town planning and professional buying skills are so very powerful that they won't touch a property without Justin first giving it the 'go-ahead'.  Others have come and gone, but the Reno Kings have always been there, powering along, using their safe and secure formulas to build up $40million worth of property.  Thriving – not just surviving – through 35 odd years of property cycles proves that what they're doing is right!   And that's why they get so many questions from property investors and why the media always go to them for help on property and renovation stories.  The Reno Kings are the trusted name in property education.
Top Suburbs
Highest annual price growth - click a suburb below to view full profile data:
latest news