When you're about to start a renovation on an investment property, there are a few things you need to know in order to maximise your profit margin.

Blogger: Paul Eslick, Justin Eslick & Geoff Doidge, The Reno Kings
A problem that tends to arise quite often when people try their hand at property renovation, particularly for the first time (or few times for the slow learners…) is the kind of tunnel vision that goes along with that particularly dangerous word in the business world…EMOTION.
You Won't Be Living There, So Don't Design It For You
This happens when would-be (usually uneducated) investors, buy a property with the intention of renovating it, and decide that there is only one way to go with that work – they're going to make the house fantastic and thus irresistible to tenants and/or buyers. Having only their own opinion of what constitutes "irresistible" to go on, they make the mistake of designing the renovation to look like their own dream home.  The fact is, this almost always results in too much money being spent on the renovation and unless you're operating in a booming market (which let's face it, isn't a normal market and nor is it going to last forever, so you may as well get smarter or your property investing career will be short-lived), or get particularly lucky, this is going to result in a loss.  If it doesn't result in a loss, it'll result in a less than maximized return.
Budget Fixtures & Fittings
If you are looking for kitchens, vanities, toilet units, taps, carpets etc for your project, do not spend a lot of money on a certain design because you "saw it in the store and just had to have it". The end result of what you are planning does not have anything to do with you "having" that item, so unfortunately you have to limit the individualism of the project. The key must always be the profit you can be confident of realising rather than one you might realize if you spend more money than the completed property can return you by way of rental income or capital gain, or both.
Maximise Your Profit Margin
The aim of the renovation exercise in the investment property world is to keep emotions out of it, spend the absolute minimum you need to to produce a sound, quality, neat, clean and appealing renovated property and THAT IS IT.  You will get no more return on your investment for $25sqm tiles than you will for $16sqm tiles.  Your tenants probably won't care if the toilets pan is Royal Doulton or Caroma – so long as it's clean and functional (and ideally not yellow, pink, blue…).
Run your property renovation like a business and make decisions on the NUMBERS, not EMOTION and you'll be a long way towards making it a successful project.
---
About The Reno Kings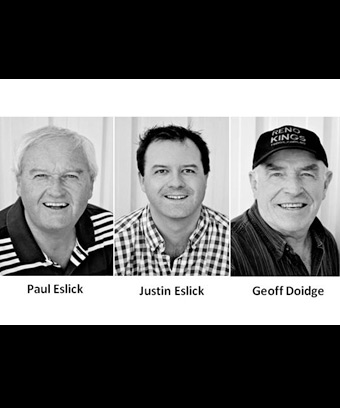 "From over 70yrs combined experience & $40million in property holdings, Reno Kings Paul Eslick, Justin Eslick & Geoff Doidge show you how to make money in property."
The Reno Kings have been successful in property for over 35 years – and it hasn't been by taking risks!  And for 12 years now they've been showing people from all over Australia how to buy exceptional property deals, cleverly add tremendous value to residential properties through cosmetic renovation and development and to safely and successfully create wealth by building a property portfolio. 
Justin has been teaching alongside Geoff and Paul for the past 5 years and his town planning and professional buying skills are so very powerful that they won't touch a property without Justin first giving it the 'go-ahead'.  Others have come and gone, but the Reno Kings have always been there, powering along, using their safe and secure formulas to build up $40million worth of property.  Thriving – not just surviving – through 35 odd years of property cycles proves that what they're doing is right!   And that's why they get so many questions from property investors and why the media always go to them for help on property and renovation stories.  The Reno Kings are the trusted name in property education.
Top Suburbs
Highest annual price growth - click a suburb below to view full profile data:
latest news