If you're thinking about increasing your rent – don't. The rental market on the eastern seaboard in particular just won't sustain it, writes Victor Kumar.
Let me explain why.
Firstly, investors need to understand that the rent cycle works counter-cyclically to the price cycle.
What that means is that the rental market is soft at present, which is the opposite of the sales market.
Rental retraction
Given where the property cycle is in our major capital cities, we are still finding that people are unrealistic in terms of their "must-have" rental yields.
They think they need to get a 6 or 7 per cent yield, but those numbers are harder to achieve at the moment because of higher property prices.
Eventually it will come around where you will get 7 per cent yields again, but that's only when prices have softened and the pressure from strong, new supply and investor activity has deflated.
Rents will increase at that time, too, especially if it's on the back of rising interest rates.
Investors need to be patient because right now they're competing with a huge number of investors who also have vacant, or soon to be vacant, properties. The smart thing to do with a vacant property would be to drop your rent to below what other similar properties are, so that you can get a tenant in sooner.
The alternative is waiting three to six weeks, which is how long it's currently taking to lease many properties.
Too many new investors are focused on the dollar amount of the weekly rent. Let's say, it's $400 per week, and that was the rental appraisal when they bought the property.
However, over the weeks before settlement, the market can change – especially in the new unit sector – and that property may no longer achieve that figure.
It's probably wiser to go for $385 or $390 per week to secure a tenant within a week or two, instead of holding out for $400 and it taking six weeks or even longer. Mathematically, of course, that makes much more sense.
Property appeal
Another factor is you need to have your property looking its best – especially in these softer market conditions. People make decisions based on their five senses so if your property is musty after being closed up, for example, how do you think potential tenants will react to such an off-putting smell?
An easy solution is to buy an automated air freshener, which only costs about $25, and set it for 15-minute cycles. In fact, I've found that the scent of lavender tends to mask most smells. Trust me, it works!
The other main elements to keep in mind are the property's look and feel. No one likes dark and dingy, so you need to open up the windows, make sure all of the lights are on and they're all working, too, during inspections.
Consider installing daylight globes because it will lighten up the property and ensure your open for inspections or open homes are at the best time of day to make the most of natural light.
You should also lean on your property managers to ensure they're not too rigid on inspection time frames. In the current market, they need to be flexible so you have the best chance of securing a tenant.
Also review the advertising to ensure, for example, that it's not just using one photo on the listing. The listing needs to entice potential tenants to physically inspect the property and one photo, or bad photos, are not going to do that.
Rent reality
At the current stage of the rental cycle, you want as many people as possible inspecting your property.
Keep an eye on how many page visits there has been on your online listing, and ideally, you also want the listing to be featured on the first page of results.
Remember also that property investment is a long-term game as well as a numbers one. Don't think that you necessarily have to spend thousands on renovations in a soft market to secure a tenant.
All you need to do is drop the rent, which may cost you $1,000 a year but it's still going to be far less than a costly, and probably unnecessary reno because the rental market will rebound – it always does.
Another strategy is to 'mystery shop' your property manager to ensure they're being responsive to potential tenant enquiries. You are paying them after all.
Given the softness of the rental market at present across the eastern seaboard, if you've got above or at market rent and your tenant is out of lease, you should lock them back into another 12-month lease as soon as possible, of course, now is not the time to significantly increase your rent.
We are in a flat rental market and the reason for that is there are plenty of new properties out there that are appealing to tenants.
Solid activity from mum and dad investors and self-managed super funds – as well as first home buyers who have exited the rental market – means that there is a "glut" of supply, while the number of quality tenants has decreased, as has demand.
What this all means is that if you try to increase the rent in a soft market such as this one, well, you'll probably just end up with a vacant property when it didn't need to be that way at all.
About the Blogger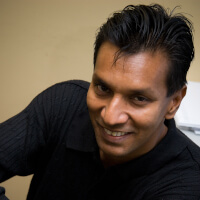 Nearly 15 years ago Victor and his wife came to Australia from Fiji with just $4,500 in their pockets. They worked hard as radiographers but realised this was not the way to prosperity. Victor embarked on a process of building wealth through property. He has amassed a substantial property portfolio, and is still actively buying and renovating property. His recommendations are based on what works in today's market, not what used to be effective a year or more ago.
Victor's experience, finance background, and financial planning qualifications mean he is well equipped to negotiate with banks – helping them find ways to say "Yes". He has also invested significant time and money in learning from other property investment experts and knows how to make a portfolio work.
Of course, Victor has made a few mistakes along the way but these have made him wiser – and he'll let you learn from his mistakes so you don't need to make them. His goal is to help you achieve your financial goals by sharing his extensive knowledge about financial structures and investment property.
Victor is now sought after as a keynote speaker at several property investment seminars and is acknowledged by his peers as an expert in the industry.
Top Suburbs
Highest annual price growth - click a suburb below to view full profile data:
latest news