Promoted by NBTax
For the past 30 years at Napier & Blakeley, we have worked across all property sectors, combining our technical skills and significant national property advisory resources to provide Reinstatement Cost Assessments for property owners big and small, whether they own single properties or high-value property portfolios.
This year Napier & Blakeley introduced NBtax by Napier & Blakeley to the world. NBtax is an online-based service that enables everyday property investors and owners alike to be comfortable from the second they take possession of their new property investment – with the help of a Condition Assessment through to Property Tax Depreciation Schedules and, of course, Reinstatement Cost Assessments.
A Condition Assessment is vital to give new property owners peace of mind during the settlement process. An NBtax Condition Assessment will take note of the 'as built finish' of your property. From our initial review of the purchase documentation, contract of sale and specifications, we have a unique understanding of what was agreed to be built and purchased.
To ensure you may get the most from your property investment, it's useful that you have a professionally prepared Property Tax Depreciation Schedule. Having an NBtax Property Depreciation Schedule will give you the peace of mind knowing that come tax time, you have the power to minimise your tax payable and maximise your cash return!
Some Australian Insurance brokers will value your required insurance level according to the purchase valuation of your property. However, this is not always the most appropriate level of insurance.
A Reinstatement Cost Assessment, prepared by a Quantity Surveyor, is important in ensuring that property is adequately insured. Carrying out a Reinstatement Assessment is a technical exercise that requires detailed knowledge in construction cost and project management. NBtax by Napier & Blakeley has national expertise in Development Advisory and Construction Quantity Surveying over the past 30 years makes NBtax the trustworthy decision. NBtax provides a comprehensive, cost-effective and consistent service across Australia.
What makes an NBtax by Napier & Blakeley Reinstatement Cost Assessment so valuable is that our assessments are based on elemental building costs rather than generic average rates.
Accuracy is important in this instance. All too often investors overvalue their required level of insurance, which increases the cost of coverage, and worse, investors are sometimes caught short with insurance coverage that doesn't meet the reinstatement costs.  
All too often property owners incorrectly insure their property, whether it be under insured or over insured. Having your property insured for its purchase price may seem like the right choice, but will it cover the actual cost to rebuild? 
In the event of insurable damage, NBtax can also advise property owners in determining the scope and amount of a claim to be submitted, as well as prepare and administer building contracts for repairs and construction.
As a property owner, whether it's your investment, your home or business, having insured your property according to an NBtax Reinstatement Cost will give you the power to ensure you're adequately insured.
Visit NBtax.com.au today.
About the Blogger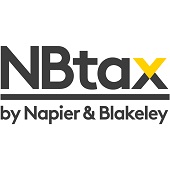 Taking the depression out of depreciation!
There's one area even experienced property investors can struggle with – property tax depreciation.
NBtax was created by Napier & Blakeley with one purpose. To make the complicated uncomplicated. To simplify property tax depreciation for investors big and small alike, making it an easily obtained service.
Anyone who owns an investment property in Australia, if that property generates a declared income then property tax depreciation is most likely applicable.
NBtax wants to educate all property investors, and simplify the process of obtaining a property depreciation schedule, so you can spend less time worrying about your investment and more time enjoying its benefits.
Napier & Blakeley, the parent company of NBtax were the first to produce property tax depreciation schedules in 1985 and have continued to be the market leaders.
Napier & Blakeley is an independent and privately owned, international, integrated, property services consulting organisation.
Cost. Risk. Return. This reflects our clients' mandate. Put simply, our goal is to make property more valuable by minimising cost and risk and importantly maximising potential return.  
After 30 years it is still a fact that investors are not aware of the clear benefits obtainable by using a professionally produced property tax depreciation schedule.
This is why NBtax was created – with 30 years of expertise, NBtax is perfectly positioned to produce a compliant and maximised property tax depreciation schedule to ensure your returns can be maximised.
Supported by the national network of Napier & Blakeley, NBtax can service any property anywhere in the country giving you the ease of mind to know we're here for you. Anywhere, Anytime.
Visit www.nbtax.com.au today to find out how we can help you maximise your property investment return.
Top Suburbs
Highest annual price growth - click a suburb below to view full profile data:
latest news