The recent Federal Budget largely left property alone – but it will likely have far-reaching ramifications for prices, investors and retirement planning. 
Blogger: Shane Kempton, CEO, Professionals Real Estate Group
One of the biggest financial challenges Australians now face is funding their own retirement, as there are growing signs that the federal government's age pension will be available only to a select few because of increasing restrictions on its availability.
The 2015 Federal Budget has made further changes around those who may access the age pension.
Because our ageing population and pressure on its finances, the federal government has even put restrictions on who can access the part-pension in the 2015 budget.
The latest restrictions are just the latest among a number over recent years.
Already, the pension age is planned to be raised to 67 between 2017 and 2023.
Well before the 2015 budget, treasurer Joe Hockey indicated that not only could the pension age be raised to 70, but that the amount paid could be limited over time – sending a clear message to Australians that they cannot rely on a government-funded pension to see them through their retirement years.
The reality is that the federal government needs to review spending on the pension scheme because it is predicted that the number of Australians aged from 64 to 84 will double from 2010 to 2050 while the number of people aged over 85 will quadruple.
As people are now living longer with improvements in lifestyle and medical treatments, more money is needed to fund retirement.
That is why a growing number of people are investing in property for long-term capital growth and rental income, so they have an asset that continues to not only grow in value but also delivers high rental returns in their retirement years.
This reality about not relying on the government pension moving forward is now being appreciated by younger Australians. 
A significant trend we have recorded in the property investment market is the growing number of young people investing in property as they come to realise that by the time they retire, the government pension as we know it today may no longer exist.
About the Blogger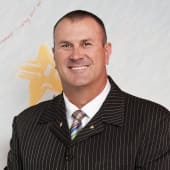 Shane Kempton is the inaugural Group CEO of Professionals Real Estate Group which has nearly 300 offices located throughout Australia and New Zealand.
Professionals have been operating in Australia for four decades and provide a wide range of real estate services to consumers.
Top Suburbs
Highest annual price growth - click a suburb below to view full profile data:
latest news