The Darwin market may have come off the boil in recent months, but if you know where to buy now could be the perfect time to add a top-end property to your portfolio.
 Blogger: Tod Peterson, owner/director, Peterson's Property Search
As you may be aware the Darwin property market has softened up. Some may say it was the correction we had to have, considering we were going strong for the past five years. In saying that, what I have learnt is that the Darwin market runs in five years cycles and I believe the downturn started back in August 2014. It normally runs for about 12 months. So now we should be coming out of a quiet transition and getting back on our feet come August/ September of this year.
Another factor that must be taken into account is that Darwin experiences a reverse market to that of Sydney and Melbourne. Whilst these southern cities are blazing ahead, enquiry here has been reduced. This is a generalised overview. People are still looking and property is still getting sold. But property buyers know that it is now a buyers' market and are savvy with their purchases .They are taking their time. They have seen price reductions and some feel that this will continue. Discounting has continued to increase, up to approximately six per cent. The public know that property runs in cycles and seasoned investors are now starting to buy back into the market. And of course are being discerning with their purchases.
If you are thinking of buying into the Darwin market this year, there are a number of suburbs you should consider.
Look at suburbs around Casuarina Square,the main commercial hub for the northern suburbs. My pick would be Nakara, Alawa ,Tiwi, Wanguri and Jingili.What has been popular in these suburbs, in the way of houses for investments or first home buyers are single-storey ex-housing commission properties that were built in the mid 1970s.
They were built as part of the reconstruction program after Cyclone Tracy. Block sizes are good, being 800 square metres-plus and were built in accordance to cyclone regulations. Many of these are in the process of being renovated and extended so streets are being gentrified and long-term capital gain established.
I have seen a steady rise in prices for these properties - over the past seven years up to around $580,000 to $590,000, but because of the downturn some are now being advertised for $540,000 to $550,000.
This is a good time to buy in. Rents have come back a bit but are still high with an average return of 5.7 per cent.Property buyers are value adding to these blocks by creating "granny flats" and thus increasing yield.
Not only are these suburbs close to commercial precincts, but they are also right next door to Darwin hospital, Charles Darwin University and Darwin High School. 
In respect to Palmerton which is a satellite city 10 minutes' drive from Darwin's CBD ,the suburbs of Durack and Gun seem to stand out as potential investment target areas for this year.
Certain houses in these areas were fetching mid- to high-$500,000s about a year ago but now I can see resale values of approximately $50,000 less. I can see these values bouncing back by the beginning of next year. 
Darwin's top 10 investment suburbs for 2015
Tiwi
Leanyer
Nakara
Durack
Alawa
Gun
Wanguri
Anula
Jingili
Woodroffe
About the Blogger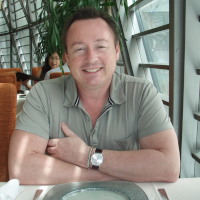 Real estate is in Tod Peterson's blood. From his grandfather's successful inner city realty business in Sydney in 1931 through to the launch of Peterson's Property Search in 2008, Tod and his family have developed a wealth of valuable experience and knowledge.
Tod has more than 28 years of direct industry experience buying and selling real estate, creating solid relationships with local, interstate and overseas clients across the residential, commercial, rural and development markets.
Peterson's Property Search was founded in response to a demand for a unique service that caters exclusively for property buyers in the Northern Territory.
Top Suburbs
Highest annual price growth - click a suburb below to view full profile data:
latest news