There is a growing awareness amongst property buyers that Perth, Brisbane and the Northern Territory now offer excellent buyer opportunities.
Blogger: Shane Kempton, CEO, Professionals Real Estate Group
The latest CoreLogic Consumer Sentiment Survey covering the June 2015 quarter highlighted the fact that competitive house prices caused by the mining slowdown has led buyers to believe that now is a good time to buy properties in these areas.
In Perth, Brisbane and the Northern Territory more than 70 per cent of those surveyed said that now was a good time to buy property.
In contrast, the survey found that only 37.4 per cent of those surveyed in Sydney said it was a good time to buy property.
The slowdown in the mining sector has resulted in a downward pressure in house prices in capital cities such as Perth to the extent that the median house price is nearly half that of Sydney.
These very competitive house prices, coupled with the fact that the economic fundamentals in the mining states are still relatively sound are underpinning the view that now is a good time to buy property. It is only a question of time before this positive sentiment is reflected in greater buyer activity in these areas.
The overall importance of the economy to the property market has also been highlighted by this survey.
For example, the majority of respondents (52 per cent) believed that the most important factor to consider when purchasing a property was their personal financial situation.
The survey found that across the respondents, 16 per cent felt prospects for capital growth where the most important factor.
Interest rates was chosen by 14 per cent of respondents and 12 per cent chose job security as most important while most respondents didn't feel that government incentives such as stamp duty discounts (three per cent) or the level of housing supply (one per cent) were important factors in a purchase decision.
The reality is that the overall strength of the economy has the biggest impact on people's personal financial situation.
While the national economy is undergoing a transition from the mining boom, overall the Australian economy is relatively healthy and this should help to underpin consumer confidence in the property market.
More articles: 
Investor demand to take a dive 
Interest rate hikes 'unfair' to investors
How to buy a positive cash flow investment
Big 4 and more increase interest rates
Should you invest in property 'sight unseen'? 
About the Blogger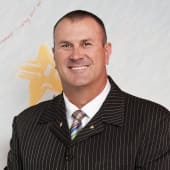 Shane Kempton is the inaugural Group CEO of Professionals Real Estate Group which has nearly 300 offices located throughout Australia and New Zealand.
Professionals have been operating in Australia for four decades and provide a wide range of real estate services to consumers.
Top Suburbs
Highest annual price growth - click a suburb below to view full profile data:
latest news