More millionaires have been created through property than any other form of investment. Is this your year?
Blogger: Shane Kempton, CEO, Professionals Real Estate Group
Over the last few weeks there has been a lot of gloom and doom about the Australian economy, with the stock market, for example, falling sharply.
Despite this negative sentiment, I am positive about the fundamentals underpinning the Australian economy and more importantly the Australian property market.
Unemployment in Australia is now at a two-year low while consumer confidence is still positive. Interests rates are at a record low and will remain low for a considerable period of time.
In this environment, there remains the real opportunity for ordinary people to become millionaires through investing in property. If you set your mind to it, anyone can take the first key steps during 2016 to become a property millionaire.
The reality is that most people dream of becoming a millionaire and over recent years there have been an increasing number of people who have become millionaires through property investment.
This is underlined by Professionals' own figures, which show that a rising number of our clients own more than three investment properties as they build a successful property portfolio to fund their retirement. 
These people have become property millionaires by adopting a professional approach to investing whether is it is carefully researching the property market or through ensuring they claim their full tax benefits associated with owning an investment property. They did not achieve their success through luck.
This is a theme that was revealed by one of the largest studies of millionaires who have created wealth themselves. The study in the US was undertaken by Dr Thomas J Stanley and his findings were published in a book called The Millionaire Mind.
The study of more than 1,000 millionaires found that some of the key attributes they shared on their journey to becoming a self-made millionaire included:
They did not follow the crowd
Most saw economic opportunity that others just ignored and had a willingness to take financial risk, given the promise of a good return
They tend to buy homes when others are selling
Spend time planning investments and often consult tax advisers
Focus energy to maximise the return on effort
They think of success, not failure
This insightful book underlines that creating wealth through investing clearly comes from developing a positive a state of mind and professional approach to investing this is underlined by a byline in the book:
"Others can stop you temporarily, but only you can do it permanently."
About the Blogger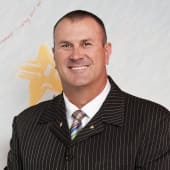 Shane Kempton is the inaugural Group CEO of Professionals Real Estate Group which has nearly 300 offices located throughout Australia and New Zealand.
Professionals have been operating in Australia for four decades and provide a wide range of real estate services to consumers.
Top Suburbs
Highest annual price growth - click a suburb below to view full profile data: