There are seven signs things could be shifting in Western Australia's capital — but what does it all mean for property investors? 
The announcement by Pilbara Minerals that it will buy an abandoned workers camp used for the massive Roy Hill Iron Ore project to house future mine workers for new mining projects in the Pilbara highlights that the Western Australia economy is resilient and that now could be a good time to invest at the bottom of the property cycle in Perth.
Here are seven things you should know about the Perth property market: 
1.There are growing signs of an improvement in the Western Australia economy. For example, a report by DFP Recruitment says there is cause for cautious optimism after a 16.3 per cent increase in job ads in Western Australia over the past 12 months, which was the biggest growth of any state. The DFP said there were 1,433 job advertisements in August this year, compared with 1,232 in the same month last year.
2. There are green shoots in the resources sector. Commodity prices have stabilised and there is now growing investment in a new generation of commodities such as lithium. The world's biggest hard-rock lithium producer has moved to put its foot on this emerging industry in Western Australia.
China's Tianqi Lithium, the world's premier producer of lithium concentrate from spodumene has confirmed plans to build a $400 million lithium hydroxide plant in Kwinana which will create 500 jobs.
3.The Perth property market is now at the bottom of its current property cycle which property prices now amongst the most affordable of any capital city in mainland Australia and around half of that in Sydney.
4. New housing construction in Perth has been on the decline for 18 months unlike other capital cities. This will bring the market back into balance and over the long term put an upward pressure on prices and rents as demand starts to outstrip supply.
5. This trend is underlined by the fact there is growing evidence that the rental vacancy rate in Perth may have peaked especially in the inner-city area. Major new infrastructure construction in the inner city is helping to drive growing demand for rental accommodation in this area of Perth combined with changing lifestyle habits such as the growing popularity of inner-city living.
6. The long-term population growth of Perth will drive property values. Perth is now one of the fastest growing capital cities in the country with a population of more than 2 million people.
The reality is that the population of Perth is on a long-term upward trajectory with expert predictions that by 2050 its population could be at least 3.9 million people or nearly double what it is today.
7. Over the past 30 years, Perth real estate has gone through a number of cycles and it is at the bottom of its current property cycle which makes it the best time to buy property in the city. Currently, there are some great bargains for investors in the inner-city areas of Perth
About the Blogger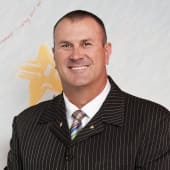 Shane Kempton is the inaugural Group CEO of Professionals Real Estate Group which has nearly 300 offices located throughout Australia and New Zealand.
Professionals have been operating in Australia for four decades and provide a wide range of real estate services to consumers.
Top Suburbs
Highest annual price growth - click a suburb below to view full profile data:
latest news