HOW PROTECTED ARE YOUR ASSETS?
For most investors, properties are the ticket to financial freedom. Jennifer Duke finds that many, however, fail to properly look after their investments, putting not just their future, but everything else they own at risk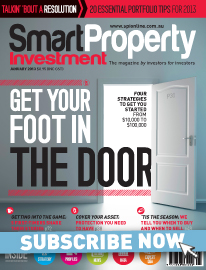 WHILE OWNING investment properties can make many feel financially secure, it's worth taking a close look at how well a portfolio stands up to any potential nightmares to ensure you aren't running the risk of losing everything.
The truth is, the unexpected can always happen and things can go wrong, so investors are wise to consider asset protection from the early stages of their portfolio.
Unfortunately, on the whole, asset protection is not well understood by property investors, says Strategies 4 U managing director, Murray Seymour, and "While most understand that they should have insurance, many are not aware of the benefits offered by other types of asset protection."
This protection can range from the structure in which to purchase the investment, whose name to buy it in or even the specific type of insurance required.
In fact, "Asset protection is vitally important to all property owners, and in particular for those that own investment properties," he says, noting that this isn't necessarily an area where scrimping on every cent is a good idea.
"Without the correct protections in place, investors run the risk of losing everything if something goes wrong. As an example, if someone was to be injured or worse at your investment property, and there was a lawsuit brought against you, it is possible that your insurance would not fully cover the amount of the claim."
In a case like this, if the properties are all owned in the investor's own name, then all the assets can be claimed. This includes the investor's home.
"In the worst case scenario where their claim is successful, then you stand to lose not only the property the incident occurred at, but any other properties, assets and even the family home that you own in the same name – leaving you with nothing."
Knowing which name of structure to purchase an investment in can, however, be a confusing exercise.
It is always worth seeking advice from financial planners, accountants and solicitors that have experience with property.
"They will be able to asses your overall situation and advise you on what is most suitable for your circumstances and your portfolio, both in terms of asset protection and tax benefits."
READ the full story in the latest issue of Smart Property Investment – ON SALE IN NEWSAGENTS NOW.
Click here to subscribe to Smart Property Investment.
Thank you.

Your enquiry has been sent to a local Aussie Mortgage Broker.

We will be in contact with you shortly.
Opps.

error occurred.
Unfortunately Aussie cannot attend to your home loan related enquiry at this stage as you must be a citizen or permanent resident.
Do you need help finding the right loan for your investment?
What Aussie do for you:
Give expert mortgage advice to help you find great investment loan deals
Help you maximise return by lowering financing costs
Save you time and effort by helping with the paperwork

Top Suburbs
Highest annual price growth - click a suburb below to view full profile data:
latest news