As vendor discounting levels climb in many capital cities, buyers may have more room to negotiate.
According to figures from RP Data, in the past year vendor discounting has risen in four out of eight capital cities for houses and five out of eight cities for units.
This measure indicates the gap between the listing price of properties and their eventual sales price.
For houses, Brisbane, Melbourne, Canberra and Adelaide saw a reduction in the average discount offered in August 2014 compared to August 2013.
In August this year, Brisbane sellers slashed prices by an average of 6.2 per cent, Canberra sellers by 4.1 per cent, Melbourne sellers by 5.8 per cent and Adelaide sellers by 5.9 per cent, according to the data.
In all other cities, the average price cut for houses rose over the year.
The biggest increase occurred in Darwin – in August 2013, the average discount was 3.8 per cent, compared to 7.4 per cent in August 2014.
For units, only Brisbane, Melbourne and Hobart saw a decrease in discount levels, while all other cities recorded an increase over the year.
Research analyst Tim Lawless from RP Data said time on market was also on the rise, with houses at 47 days for houses and 45 days for units in August.
"Much like discounting levels you can see that there has been a slight increase in average days on market over recent months after reaching lows of 36 days for houses and 34 days for units, both of which were achieved in March of this year," he said.
In his view, the combination of higher discounts and rising time on market may give buyers more sway at the negotiation table, though vendors retain the upper hand.
"In light of these factors we would expect that we may see some further increases in both discounting and time on market over coming months," Mr Lawless said.
"This should create a little more leverage in negotiations for buyers, however, vendors still have a much greater advantage in the negotiation process than buyers."
The full results are below.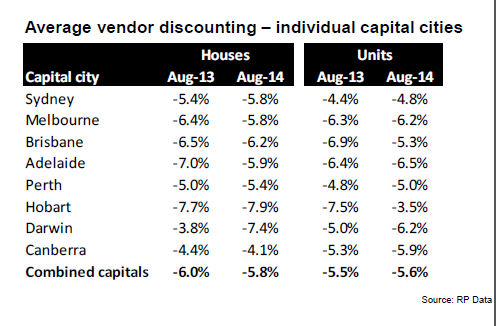 Be the first to hear the 
latest
 property investment insights