Property market update: Brisbane, May 2018
Brisbane continues to offer a variety of wealth-creation opportunities to property investors as it boasts affordable rental markets, modern infrastructure and abundant interstate migration.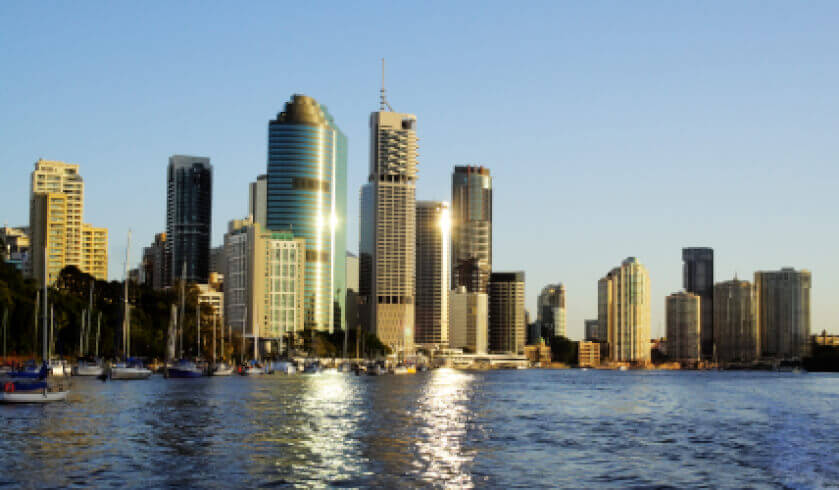 While national dwelling values have declined in May—the eight consecutive month-on-month fall since the national market peaked in September 2017—the property market of Brisbane continue to follow a rising trend.
You're out of free articles for this month
To continue reading the rest of this article, please log in.
Create free account to get unlimited news articles and more!
Queensland's capital city experienced growth at 0.9 per cent, along with Hobart, Canberra and Adelaide, which saw growth ranging from 0.6 per cent to 12.7 per cent.
Meanwhile, the 'celeb' markets of Sydney and Melbourne are among the weakest-performing capital city this month, dropping by 4.2 per cent and 1.2 per cent, respectively.
According to Tim Lawless of CoreLogic, the market conditions in May prove that the Australian property landscape is following a new trend—affordable housing options are showing stronger conditions and the previously top performing regions are now amongst the weakest.
Unit market
The more affordable units continue to attract buyers, investors and tenants compared to houses as it provides dwelling near the capital city's central business district.
Affordable units can be as close as 20 kilometers from the CBD. In contrast, affordable houses could be over 75 kilometers away.
Units located right in the Brisbane CBD have a media value of $473,101.
Other affordable unit markets that offer dwellings at $500,000 or below can also be found within a kilometre radius of the central business district.
Moreover, the Rental Affordability Index (RAI) by National Shelter, Community Sector Banking and SGS Economics & Planning states that Brisbane is among the areas with the most affordable rent, requiring only an average of 25 per cent of the tenant's household income.
However, experts strongly advised investors to be wary of the risks of oversupply.
Right Property Group's Victor Kumar said that unit owners tend to offload their assets when the market starts showing signs of 'softening' such as house prices falling.
According to him: "A great example is the Logan market in Brisbane where some unit owners are offloading their assets because they're frustrated they haven't experienced any price growth. Often, they're also offloading units at the price that they bought at because the market has been soft."
At the moment, according to Mr Kumar, there a lot more rental properties available in Brisbane, which results to a significant drop in rental rates and may also lead to the flattening of the market in the near future.
Supply and demand
House listings fell in almost every capital city, with Darwin, Adelaide and Sydney seeing the biggest declines at 38.8 per cent, 11.8 per cent and 11.6 per cent respectively.
Brisbane's listings fell by 3.8 per cent, but properties in the market still tend to remain longer than assets available in other capital cities.
The median time on market for Brisbane houses is at 62 days, followed by Darwin and Perth, where houses remain in the market for an average of 71 and 78 days, respectively.
Across capital cities, vendors have been discounting house prices at 4.7 per cent to 6.7 per cent and unit prices at 4.6 per cent to 6.8 per cent.
Over the month, asking house prices in Brisbane fell by 1 per cent while asking unit prices rose by 0.4 per cent.
Growth drivers
Despite the unpredictable market movements in Brisbane, the growth drivers present in the capital city assure investors that there will always be opportunities to create wealth in its suburbs.
Interstate migration and affordability
One of the major drivers of growth in Brisbane is the influx of interstate migration.
According to Propertyology's Simon Pressley, people who want a 'slice of the capital city' move to affordable areas located in greater capital city areas, thus strengthening the interstate migration trend across Australia.
Aside from property buyers, budding investors who want to get a foot on the property ladder also seek affordable areas near the capital cities.
All five city councils of the Greater Brisbane area saw positive internal migration last year.
The biggest movements are in Moreton Bay, with 5,110 arrivals who seek the enjoy the median house price of $455,000.
Meanwhile, Ipswich, with a median house price of $345,000, saw 2,332 arrivals and Redlands, with a median house price of $531,000, saw 1,237 arrivals.
Overall, the state of Queensland saw an additional 17,000 residents in one year—marking an interstate migration boom.
Mr Pressley said: "Affordability was a key driver with the more expensive metropolitan Brisbane attracting the smallest portion of interstate migration while Moreton Bay welcomed the lion's share."
"In fact, its population of about 440,000 people is expected to grow by a staggering 200,000 in the next 20 years — and its affordability is a big part of the reason why," he added.
Infrastructure and jobs growth
Aside from interstate migration, infrastructure growth continue to influence market movements in Brisbane.
Investors are likely to benefit from the million-dollar infrastructure projects lined up in the capital city over the next 10 years.
Of the $75 billion investment in transport infrastructure across Australia, $9.3 billion will be dedicated to the Melbourne-to-Brisbane Inrail project while $300 million will be used for the Brisbane Metro project.
Over 16,000 direct and indirect jobs will be created during the projects' construction.
Following the improvement of transportation and tenants' access to key facilities, investors across the capital city are expected to see a significant increase in property values over the coming years.
Other infrastructures driving growth into the market are the first university in Petrie—the largest university in Queensland—and the nearby Caboolture Hospital, which will be turned into a teaching hospital.
Moreover, the 400-acre land near the university in Petrie has also been declared by the government as a priority development area.
"It's going to have the same impact as Badgerys Creek. They've got the town center in the middle and houses all around it—it was the first of its kind. That is what they are trying to do there," Mr Kumar said.
Hotspots
Among the areas that experts consider as 'primed for growth' are suburbs near the central business district, suburbs to the north of Brisbane CBD, Eastern suburbs, middle-ring suburbs and other surrounding suburbs.
Near-CBD suburbs
Brisbane offers affordable units and townhouses that cost as little as $500,000 to $550,000 in the suburbs within 15 kilometres of the central business district, including Tingalpa, Geebung and Keperra.
Among the affordable suburbs in the capital city, Rocklea is closest to the CBD at 8.8 kilometres away. It boasts properties with a median value of $419,922.
Moving further into the 10-kilometre range, Hemmant offers properties with a median value of $499,480.
The affordability of dwellings presents an incredible opportunity to first home-buyers and budding investors who aim to enter an established market.
Experts also advise investors to check out areas in and around 60 minutes north of Brisbane CBD, which is expected to see significant growth this year following the development of infrastructures such as the Petrie University and the Caboolture Base Hospital.
Middle-ring suburbs
The middle-ring suburbs of Brisbane, including Kedron, Boondall, Bracken Ridge, Carindale, Mount Gravatt, Chermside West, Keperra and Wynnum, also offer investors the benefits of affordability and good infrastructure.
Aside from the promise of solid growth and good cash flow brought by demand for rental properties, these suburbs also present opportunities for property development.
Mr Kumar said: "You can get a decent house for $400,000, then, say 10 years down the track, you can knock it down and put a duplex."
"There aren't many other states in Australia where you can say that you can confidently do that within a 15-minute travel distance to the CBD," he added.
Eastern suburbs
For some experts, the suburbs in Eastern Brisbane are among the best markets for investors chasing capital growth as they saw up to 16 per cent rise in the past three years.
These growth regions include Highgate Hill, which recorded an average annual price growth of 7.6 per cent in the past decade; Gaythorne, which has grown by 7.4 per cent annually; Pallara, which experienced a 38.5 growth in the past year, and; Nudgee, which saw a 7.7 per cent annual growth in the last 10 years.
Surrounding suburbs
Finally, experts suggest looking into the suburbs surrounding Brisbane, particularly those located way north.
Cairns, for instance, boasts a strong demand for property as well as solid fundamentals.
Aside from the boost in the agricultural sector, tourism also contributes to the significant growth in its property market, according to Mr Pressley.
He said: "Cairns Airport is the fifth largest Australia-wide, which can see someone travelling from Asia reach Cairns in five hours. In addition, Cairns is situated close to the Great Barrier Reef as well as rainforests."
Moreover, infrastructure projects are expected to strengthen the area's local economy even more.
"There's a $120 million expansion to its convention center, as well as access to the Federal Government Department Northern Australia Infrastructure Fund-a pool of $5 billion in government funding. Education is also seeing expansion with a second university for the area opened just last year," Mr Pressley highlighted.
The Sunshine Coast market also offers wealth-creation opportunities driven by population and economic growth.
According to Probity Investment's Jeremy Foster, the area has grown from an economic base of tourism and construction to entrepreneurial, small-to-medium enterprises in health, technology, professional services, building and retail sectors.
In the past few years, Sunshine Coast has seen the creation of over 13,200 jobs and $10 billion worth of investments on infrastructure and commercial and residential developments.
Strategy
Here are some ways to maximise the wealth-creation opportunities present across the Brisbane property market:
Micro-apartments
Investors can enjoy significant returns if they take advantage of their ability to convert existing housing stocks and build brand new developments.
The Brisbane City Council rules allow the creation of five micro-apartments, which are deemed much needed, especially in low-density areas.
If implemented properly in projected growth areas, such as hotspots within the five- to ten-kilometre radius of the Brisbane CBD, this building strategy can help investors achieve superior rental returns.
Moreover, it can lead to returns that are double or triple of what standard investors are currently enjoying within the next 6-18 months.
Just be wary of the risk of overcapitalising, experts advised.
According to the International Construction Costs 2018 report from Arcadis, Brisbane ranked 22nd on the list of the most expensive cities to build properties in.
The only other Australian cities on the list are Sydney and Melbourne, which ranked 19th and 21st, respectively.
Commercial properties
Aside from micro-apartments, investors can also profit from commercial property investments, especially considering that the commercial market in Brisbane is deemed to have the best yield in the country at the moment.
Rethink Investing's Scott O'Neill said that investors can enjoy up to 7 to 8 per cent yield through good leases—a significant difference from Sydney's 4 per cent yield.
However, he does not advise giving up residential investments altogether. In fact, the ideal scenario would be a mixture of residential and commercial properties in one portfolio.
By implementing this strategy, investors can have "the best of both worlds—you've got the capital growth and much better cash flow than the average person"," Mr O'Neill highlighted.
He explained further: "Your residential's there for capital growth, but I like the idea of using the growth, the equity you've built up, for commercial. While you're increasing the debt on the residential property, the commercial cover all the costs and both produce extra income."
Risk management
In order to maximise the earning potential of your investments, experts advise doing due diligence and engaging with property professionals, where appropriate.
Before jumping into a purchase, take time to research with an insurance broker and understand the cost of building insurance.
The city of Brisbane experienced severe flooding at the end of 2010, which caused negative growth within six years and saw many investors losing thousands of dollars on their investments.
Due to unexpected circumstances like this, being insured is considered necessary albeit expensive.
Finally, research on the area's historical data on sales and market movements to spot other red flags.
For more specific data and information on the Brisbane property market, visit Smart Property Investment's Best Suburbs page.