Mount Druitt renovation: part 4
The team at Smart Property Investment has now had time to digest and debrief after the long weekend in late July when we set ourselves the challenge to completely renovate a two-bedroom apartment in Mount Druitt, in Sydney's western suburbs.
It's always good practice to assess how a project has played out, looking for ways in which the job could have been improved, be it budget savings, greater efficiencies and improvements to the finishes. This can be one of the most valuable components of any project.
By and large the renovation project in Mount Druitt was a resounding success, but there were some areas for improvement, and lessons which we will no doubt use on our future projects.
Procrastination and fear of failing can be a big inhibitor to the growth of your property portfolio and wealth creation
Having purchased the property for $179,000, the goal was to spend $15,000 to increase the capital value of the property as well as the weekly rental return. As reported in part three of this  series, while it was a big task – and a sleepless weekend – we made it happen.
Two appraising agents, who inspected the property after we staged it, offered a sales valuation between $240,000-$250,000 and a rental appraisal from $330-$350 a week. Not a bad result at all
The right direction 
According to Phillip Tarrant, managing editor of Smart Property Investment, the combination of skilled labour, matched with many willing and well-intentioned un-skilled hands, made the project possible.
"While we often had a few too many people on site, with the right direction and an understanding of what needed to be done, we were able to put people to good work – allowing us to speed through the renovation. The old adage certainly rang true: 'many hands make light work'."
"I knew we had our backs up against the wall to do the renovation in just three days, so I used some of my best cajoling skills, and sometimes some coercion, to get help on site and get them to work."
Mr Tarrant says while it's good to have unskilled labour (the sweat equity) on site, you need to make sure they have plenty of direction and keep the jobs relatively simple – otherwise quality may suffer and a rework could be required.
"I had a long shopping list of tasks that needed doing plus a schedule of when they had to be done. Stuff like sanding, painting, taking tiles off walls, removing doors, ripping up carpet… the list goes on.
"It's pretty hard to get this sort of thing wrong if you give the person doing the work a good brief and show them how it's done," he says.
But make sure you don't overstep their skills ability.
"We were under time pressures to get the paint on the walls so I made a mistake of getting the guys to cut in the wall paint around the cornices. While some of them had a steady hand, some of the others were a bit shoddy and in some cases it doubled our work as we had to go back and re-do it.
"It just comes down to knowing the limitations of the help you have and getting maximum value from it."
Spend wisely
There's a real art to renovating – not just in your ability to do the work and produce a quality finish; it's also about how well you stick to a budget.
"I've got a bit of a reputation for spending little to get a big impact. I'm not a bad negotiator, have a nose for a bargain and some skills in using leftover materials from other renovations on my own," Mr Tarrant says.
"You'll be surprised what a case of beer to a mate can get you these days; particularly if they've got gear filling up their garage and want to get rid of it."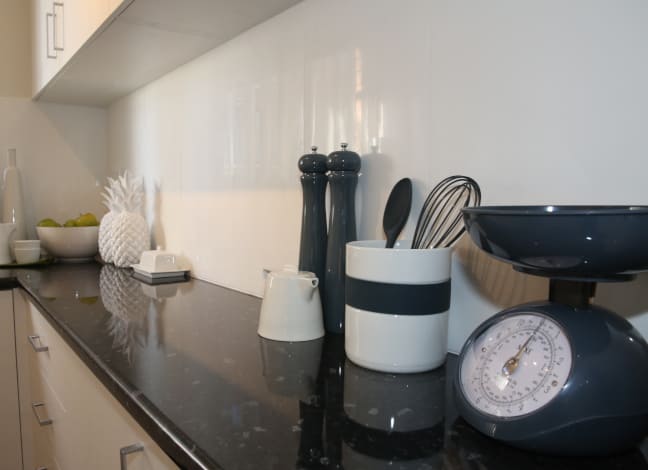 These aren't bad skills to have and the good news is that everyone can learn them.
"As well as begging and borrowing, you can pretty much pick up most reno equipment – whether it's building materials or tools – online for a fairly cheap price these days.
"While it's going to cost you some time digging around on eBay, Gray's Online or direct with the multitude of companies now servicing renovators, the money you save will typically justify the time spent hunting down a bargain," he says.
Tiles are a good case in point. Search eBay and you'll see plenty of people selling 10- 20sqm of tiles, which were probably leftover from their own reno.
Most of the time they just want to get rid of them, but you can often pick them up cheap and use them for a laundry, a small bathroom or even a kitchen splash back. You'll be surprised how much you can save if you dig deep enough and are prepared to use what you can get.
"Does it really matt er that your floor tiles in the bathroom are dark grey rather than sandstone colour? Remember, it's an investment property – if it looks ok, matches in with other colours and are laid correctly, it doesn't really matter," says Mr Tarrant.
For this reason, Smart Property Investment always renovates its properties using the same base colours.
"Antique white on the ceilings and typically light beige for walls. You'll find more often that most earthy or contemporary tones will match this colour palate, giving you plenty of scope to be flexible with the goods and material you can pick up cheaply," he says.
Planning costs
The key to renovating a property is to understand what you want to achieve, how that relates to boosting the value and rent of a property, and setting a budget to achieve that without overspending.
Remember, it's ok to make mistakes – that's how you learn. Just try not to make them a second time
"All too often budgets blowout – most of the time it's changing plans or the scope of the reno during it, or using overpriced labour and material," says Mr Tarrant.
"So, did our budget blowout? Sure did - by $80.68. As you would assume, we're pretty happy with the result!
"All up we spent $15,080.68 on our renovation.
"While we haven't factored in our sweat equity – i.e. the time for the Smart Property Investment team plus family and friends to lend a hand on the renovation – all other costs have been fully factored in.
"This includes the $95.98 spent on a few slabs of beer for the plumbers for working late on Sunday."
Outside of the work done by the Smart Property Investment team, all other labour costs have been included plus all materials, travel costs, tip fees, lunches and beers when the tools were put down. Big ticket costsincluded:
Blinds: $650
Professional carpenters, tilers, plasterers:$4,130
Carpet and flooring: $1,560
Electricians (labour, power and light switches): $870
Kitchen cabinetry supply and installation:$2,640
Plumbers (labour and some materials):$1,470
Equipment hire: $680
Waste dumping and truck petrol: $210
Travel plus food and beverages: $760
The remainder of the budget ($2,107.68) was spent on building materials and sundry, such as light fiings, tiles and associated products, tap ware, safety gear and painting equipment.
Perfect world
While the renovation project in Mount Druitt was a resounding success, improvements could have been made – and these lessons will be used on our next project.
However, as Mr Tarrant says, it's important not to get too focused on your mistakes and to think about the positives.
"I know a lot of renovators that are too scared to pick up the tools – they feel like they don't know what they are doing and will make a mess of the property. This fear is holding their portfolio back."
Procrastination and fear of failing can be a big inhibitor to the growth of your property portfolio and wealth creation, he says.
"You need to get active, you need to get involved. Thankfully there are a range of different outlets now – like Bunnings – that do DIY courses, where you can learn everything from sanding and polishing floors, to tiling, to how to hang doors.
"Take an active part in renovating your properties. As long as you have a plan, know your limits and use quality tradesmen for the more specialised works. You'll not only take a hands-on role to improving your portfolio, it can be a lot of fun and very rewarding.
"Remember, it's ok to make mistakes – that's how you learn. Just try not to make them a second time."
Maximum appeal
Smart Property Investment chose Tegan Grant from Furnish & Finish to furnish its property, confident in her ability to add some pizazz to the unit and impress local appraising agents. She shares her strategies for maximising the capital value and rental return of a property via staging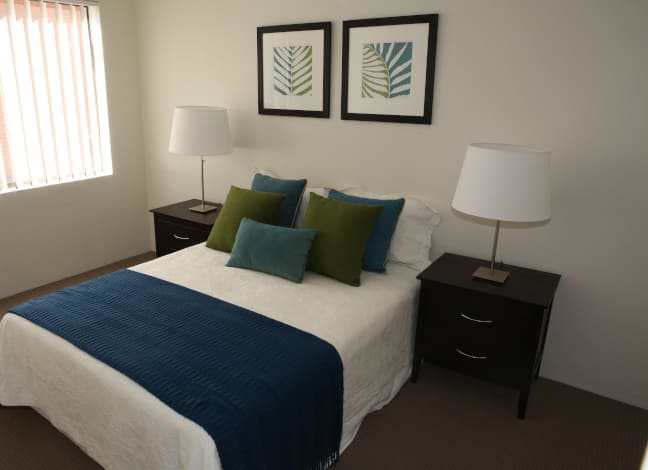 What information were you given beforehand to give structure to the staging?
From brief to styling was a fairly quick turnaround … which most of the properties are. People tend to leave the arranging of styling until the last minute and then go into panic mode. That's fine; we know this is the case and we're comfortable working in this environment.
With this property Phillip from Smart Property Investment provided a rough floor plan, giving us a good idea of rooms, positioning, dimensions, how the unit would be renovated and what was required.
We usually receive this kind of information, however, we also do site visits for a lot of our properties as well. What we do then is to think about the area, who the potential buyers/renters are and where they're coming from, in an attempt to appeal to that wide market.
We styled this property to aim at the younger demographic – keeping it fairly fresh and contemporary. Keeping in mind a younger market, we kept things pretty contemporary, streamlined and fairly neutral. We introduced the accessories, artworks and cushions just to make it shine.
Why did you decide to style the property using the colour and furnishing you selected?
Red is always a great main colour theme, especially if you're photographing the property – it just jumps off the page and it's a very warm colour.
In winter it can really make a room feel inviting; it was the obvious choice for this property considering the demographic, the time of year, and to appeal to the agents appraising the property. Moreover, because photos would play a major part in Smart Property Investment we wanted this property to shine.
What sort of value does styling a property like this add to the purchase price?
It's widely accepted that it's about 10 to 15 per cent in terms of value to both the rental and also capital value.
But it's just not price alone – staging also helps the speed of sale, or the speed in which it's leased. This is important for investors.
As well as the speed in which it's sold or leased, it also creates a buzz and gives the leasing agent a much easier task rather than leasing an empty premises. It's a point of difference in a sometimes very cluttered listings market – you need to stand out from the crowd and staging helps you achieve that.
On open houses, when a potential renter or purchaser comes in they're often not expecting to see something so glamorous – it tends to create a fairly emotional feeling, whereby purchasers or renters can "see themselves in the property".
Do you think that more investors should consider staging their property?
Absolutely, you definitely get your money back; you certainly get a return on your investment. But there is an art to it.
Some people think that styling is expensive and doing it themselves is a cheaper option, however when they go and do it, they find out that it's not. The time, strategy and quality of furnishing is not the same. I think styling is a much better way to go.
Remember; styling is about moving your product. It's not about your own personal taste, it's not about someone else's personal taste; it's about appealing to a wide market because what you're trying to do is sell or rent your product. What styling tries to do is enhance that process.
Property performance
Location: Luxford Road, Mount Druitt
Property type: 2-bedroom unit
Renovation budget: $15,000
Timeframe: 3 days
Purchase price: $179,000
Original rent: $270 per week
Post-renovation valuation : $240,000-$250,000
Post renovation rent: $320 per week
Increase in value: $61,000
Increase in weekly rent: $50
Increase in yearly rent: $2,600