SMOOTH SAILING?
There's no better start to building your property empire than an all-access view of an established portfolio. To help you understand the strategies behind a successful multi-property investment portfolio, we reveal all the secrets that have gone into building our own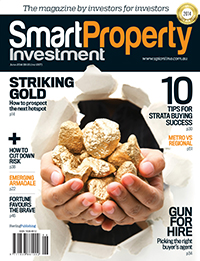 As a journalist I'm always looking for an angle for any piece that I write. It gives the article sizzle, strikes emotion and draws a response. It's the key to all good journalism.
But I'm in a bit of a quandary with this most recent instalment of our Investment in Action series.
You've no doubt been following the last few months, where I've been discussing the purchase and proposed renovation of our latest property in Woodridge, Queensland – a suburb of Brisbane within Logan City.
This property checked all the boxes in terms of our investment strategy. It was under market value in a growth area with demand for rental accommodation; it also gave us the capability to undertake a cost-effective renovation to elevate both the rent and capital value of the property.
It couldn't be better really. We also lined up a contractor who was happy to undertake a fixed-price renovation, which could be overseen by our buyer's agent as well as the renting agent we will place the property with for management – and who already has tenants lined up to move in!
READ the full article in the latest issue of Smart Property Investment – ON SALE IN NEWSAGENTS NOW
Click here to subscribe to Smart Property Investment.
Thank you.

Your enquiry has been sent to a local Aussie Mortgage Broker.

We will be in contact with you shortly.
Opps.

error occurred.
Unfortunately Aussie cannot attend to your home loan related enquiry at this stage as you must be a citizen or permanent resident.
Do you need help finding the right loan for your investment?
What Aussie do for you:
Give expert mortgage advice to help you find great investment loan deals
Help you maximise return by lowering financing costs
Save you time and effort by helping with the paperwork

Top Suburbs
Highest annual price growth - click a suburb below to view full profile data:
latest news