RAGS TO RICHES
Property can help you build wealth, but can this happen if you're starting from scratch? If you have no cash, no credit or no job history, can you still invest in property? If you lose everything through business fraud, bankruptcy, or personal crisis, how would you even begin to recover? Vivienne Kelly speaks to seven investors from across the country who have bounced back from adversity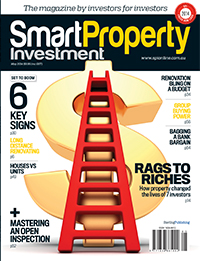 "I celebrated turning 50 with a massive physical and mental breakdown," says Bernadette Janson. "As it turns out, it was the best thing that ever happened to me." 
In her 20s, Bernadette gave up a career in nursing to take care of her four children. To keep herself challenged and motivated during this time, she started doing small renovations, and as time wore on she took on more ambitious projects.
"I got more and more daring. I had a go at everything: renovating, development, subdivision, heritage work, until eventually I bought a run-down business to renovate," she says.
The corporate café and catering business had everything: staffing issues, long hours and temperamental chefs.
"I should have been suspicious when the two owners before me walked out in despair, but I don't give up," Bernadette says. "So I kept at it until finally I dragged it kicking and screaming back into the black.
"It took me two years to get it singing, but the problem was I stopped singing. I knew I wasn't coping but it was such a great business that I couldn't let it go – until finally I had a meltdown."
Bernadette's mental struggles were then compounded by a cancer diagnosis.
"I was slapped by the reality of what I was doing to myself," she says. "I was filled with grief for the time I had not been present and what that cost me. I resolved to spend the second act in my life on my terms."
READ the full article in the latest issue of Smart Property Investment – ON SALE IN NEWSAGENTS NOW.
Click here to subscribe to Smart Property Investment.
Be the first to hear the 
latest
 property investment insights