THE MAN WITH THE PLAN
While other people his age were buying cars and going on holidays, Jeremy Iannuzzelli was building a property empire and, at just 24 years of age, he has big plans for his future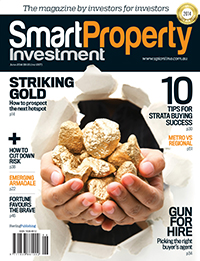 Jeremy Iannuzzelli has had a busy 12 months. Since February 2013 the 24 year-old has bought three investment properties: one in New South Wales and two in Queensland.
Jeremy decided to get involved with property to secure a second income stream.
"I saw property as a means to make a passive income, not only in capital growth but for cash purposes as well.I also saw it as a forced saving plan," he says.
Jeremy is an accountant and comes from a family of accountants, with his father, uncle and cousins all sharing the same profession. This prudent, numbers-based approach to life has shaped his investment approach.
He chose property because it promised reliable returns, in contrast to stock market investing where values fluctuate wildly.
"I have definitely heard many horror stories of people losing money on shares because they're not keeping up to date with any announcements and they're not making the correct decisions," Jeremy says.
"Property has, historically speaking, gone up [in value] over the years. I did see that as a more conservative basis for building wealth."
READ the full interview in the latest issue of Smart Property Investment – ON SALE IN NEWSAGENTS NOW
Click here to subscribe to Smart Property Investment.
Be the first to hear the 
latest
 property investment insights