When selling your home, you need to take a good look at your property with an unbiased eye. A clean, appealing, well-maintained home has much better odds of selling – not only for more, but faster than one that is not. When it comes to real estate, first impressions really are lasting impressions.

Blogger: Naomi Findlay, International Institute of Home Staging

This is not to say that a major renovation is in order. There are no guarantees that you would recover the costs of an enormous overhaul. Instead, take a more conservative approach and make cosmetic improvements that can make a seemingly overall refurbishment.
First, start with the outside of your house. Here are my top 5 tips for the outside of your home to increase your property value prior to sale:
1.    Mow the lawn
A well-manicured lawn gives a home one of the best chances at showing pride in ownership than any other outdoor technique. Studies have shown that when the landscaping of a home is in excellent condition, it can sell for approximately four to five per cent higher, while homes on the other end of the spectrum can sell for eight to 10 per cent less. That's a huge difference in market price.
2.    Maintenance and Repairs
Take the time to inspect loose railings, screws and sheaths. Not only do these fix safety hazards, but also very unattractive. These are inexpensive repairs that can be DIY or fixed with the help of a professional.
3.    Touch-up painting
Inspect the veranda, deck, downspout, gutters and small areas on the ends of the house for cracked, worn and dull looking paint. This simple touch up can create a whole fresh new look for the home. Concentrate on the front porches, verandas and entryways.
4.    Visible house numbers
While it may seem like a rather silly task, making it easy to find your home will make all the difference in selling it. Do your prospective buyers a favour and make it easy to identify the home – make the numbers stand out in a prime location and easy to read.
5.    The gateway to the home
As the entry point to the home, this is the focal point when it comes to street appeal, so be certain they are in tip-top shape. In wanting to present with little to do, make sure the front gate and letterbox are well maintained. Improve the entryway by considering bright, functioning porch lights and a new doormat, preferably without a welcome note or text.
There isn't a real estate agent who wouldn't tell you that one of the most important terms that you can learn is 'street appeal'. If you take the effort to ensure that the outside of your home is appealing, then it will make certain that potential buyers will want to look at the interior as well.
In Part Two of this post, I will share with you the top 5 things you should do inside your house to increase its sale price.
---
About Naomi Findlay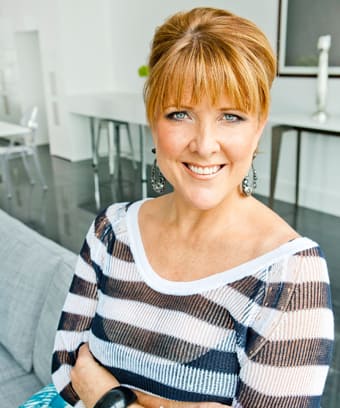 Naomi Findlay started her successful home staging business, SILK Home Staging & Styling, three years ago and is now also the founder of the International Institute of Home Staging (IIHS). IIHS combines her experience in running her own successful home staging business with her awarded expertise in tertiary education.
 
Naomi has received teaching awards from the University of Newcastle and the Australian College of Education and been nominated for a national award with the Australian Teaching and Learning Council. She is also the author of a bestselling book, Ignite Your Property Mojo, in addition to being a regular columnist for realestate.com
Thank you.

Your enquiry has been sent to a local Aussie Mortgage Broker.

We will be in contact with you shortly.
Opps.

error occurred.
Unfortunately Aussie cannot attend to your home loan related enquiry at this stage as you must be a citizen or permanent resident.
Do you need help finding the right loan for your investment?
What Aussie do for you:
Give expert mortgage advice to help you find great investment loan deals
Help you maximise return by lowering financing costs
Save you time and effort by helping with the paperwork

Top Suburbs
Highest annual price growth - click a suburb below to view full profile data:
latest news