Rather than focus on our most recent renovation project last month, I wrote at length about our property investment strategy and how your goal setting will develop the more experience you get and the greater maturity your portfolio takes on.
As I surmised last month, our overall strategy of buying under-market value properties with scope for value adding remains.
We'll continue to focus on areas with investment-grade properties under $350,000 with the potential for strong capital growth in the future and positive pressure to drive rents upwards.
However moving forward – and in order to obtain more scale to our portfolio – we're going to start seeking opportunities for purchasing assets that consist of two, three or four properties that we can potentially strata, renovate, hold and/or sell. This might be duplex properties, a small unit block, townhouse development or similar.
I'll keep you informed of how we progress on this front, but assets like these are difficult to find at the right price in the right locations – so we won't rush it. We'll be opportunistic in this regard; when the right asset presents itself we'll move quickly to secure it.
For the meantime our focus on purchasing under-market value properties with potential for adding value through renovation remains front and centre. Our latest purchase in Springfield, Queensland is a great example of this strategy. At a $270,000 purchase price it's one of the cheapest houses in the area. Considering the valuation at purchase was $321,000 according to RP Data, we've clearly excelled in this area.
However the goal is to also manufacture equity through a cost-effective renovation to elevate the property's capital value, and I'm excited to see what the final figure will be once the renovation has been completed. I'll share this with you in an upcoming article; here I want to detail the renovation and some of the rationale behind our decisions.
Go for growth
I have previously explained the reasons for buying in Springfield, which were predominantly associated with the drivers for ongoing sustainable growth in this property.
These are the kind of growth drivers we seek in all areas where we invest: infrastructure investment, population growth, a demand for rentals, job and wage growth, a committed plan for community and social development, plus good infrastructure including transport links to business centres, hospitals and schools.
Springfield ticks all the boxes. According to Steve Waters of buyer's agent the Right Property Group, who identified the area, located and negotiated the property for us, and assisted us plan the renovation, the property's ideally suited for a quick, cost-effective renovation.
The three-bedroom house sits in a nice tight cul-de-sac, with quality properties surrounding it. Mr Waters says the opportunity in renovating this property is focused on increasing its street appeal, and spending wisely inside to make the property more liveable to offer greater tenant appeal.
To this end, the internal work has mainly been focused on giving the property a spruce up with new paint and carpet as well as reconfiguring the wall inbetween the kitchen and lounge room to make an open-plan living area.
We've also done some smart, cost-effective work in the bathrooms to freshen them up.
The money spent will not only ensure a higher rent, it will more importantly help elevate its capital value
This property is an interesting one. Essentially we could have let it out as is but I feel we would not have truly capitalised on its potential for attaching a higher yielding tenant. It's not exactly an old property, but it is a little tired with a few decades of wear and tear that has made it really show its age.
Built in 1992, the property is structurally sound but unfortunately lost its pizazz. Compared to other properties in the street, the front yard looks unloved – but nothing a few garden beds and shrubbery can't ¬fix. Inside, it's pretty much the same. Still in its original condition it looks like a place built in the 90s, but that can be easily rectified.
One of the major elements that lowers its external appeal is the front and back pergolas, which look tired and damaged. The front one over the entrance need removing, but the back one requires repair and replacement of the shade cloth – more on this below.
Know your goals
Going back to the decision to spend money on improving this property rather than renting it out as is, I'm confident that the money spent will not only ensure a higher rent, it will more importantly help elevate its capital value.
The property valuer will get very different before and after experiences with this property, which will result in a better valuation, bringing it on par with similar properties in the area. And this is the overall goal.
When renovating a property you need to have a purpose in mind. In renovating this property our goal was to elevate it so that it is comparable, or better than, other properties in the area that we know are selling. As outlined at the top of this article, RP Data gave this property, at the time of sale, a valuation of $321,000. This is our starting point.
When I look at other three-bedroom, freestanding properties in Springfield with the same or similar attributes as ours, they're currently being listed and sold at between $340,000-$370,000.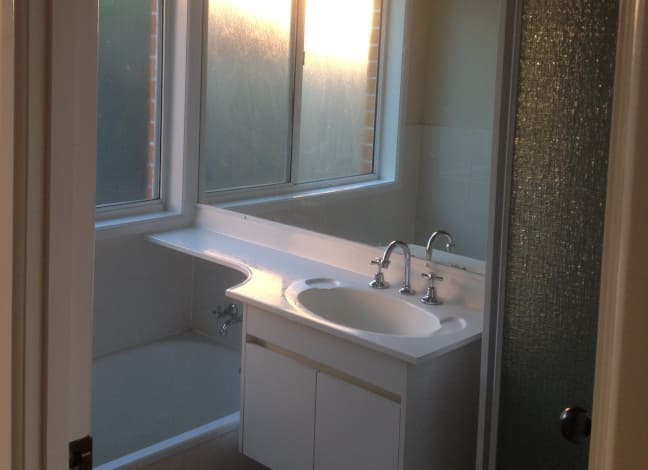 The higher end of this bracket includes properties with similar attributes in terms of age, location, style and size; however they have been renovated.
The opportunity for me is determining how I can elevate our property to be on par with those currently selling in the area via a renovation and spending as little as possible.
Considering the upside for renovating, I've capped our budget at $10,000 and I'm confident I should be able to triple that investment in terms of the return in increased capital value.
The following highlights the areas where I've chosen to spend our money and the reasons why. Join me next month as I unveil the final result and share the valuations we receive post renovation. Remember to email me at [email protected] with any questions on this or if you require more info.
Creating value on a budget
To fulfil our objective of creating as much equity as possible in our property via renovation with minimal investment, we needed to determine what renovation works would give us the greatest bang for our buck.
The kitchen and bathrooms are the two main areas of a house that draw both renters' and valuers' interest and are always worth attention. Fortunately for us, the kitchen, main bathroom and en suite were in relatively good nick and simply required some new tapware and some necessary repairs. To fully renovate these elements of the house would have cost in excess of $10,000 and, I feel, is not necessary at the moment.
As discussed earlier, the opportunity in this property was a refresh and modernisation through painting and new ¬floor covering plus some outside work. And further on, you'll see where we directed our money and time.
The following costs are direct costs from the builder and other tradespeople we engaged to undertake the work – including both material and labour. We worked hard to find tradespeople we knew would get the job done with a minimum of fuss, downtime and at a reasonable price. Remember to get at least three quotes when undertaking any renovations as you'll be surprised how different prices will be.
The kitchen and bathrooms are the two main areas of a house that draw both renters' and valuers' interest and are always worth attention
Task: Remove three-metre section of wall between the living room and dining room, and make good plastering.
Cost: $1,200
Purpose: A high-impact task that truly transforms the property. Essentially has converted the living areas of the property into open-plan living – linking the lounge with the kitchen. Rather than remove the whole wall, only part of it was removed to ensure the integrity of the structure and roof. Always check with your building engineer before removing any walls; if they are load-bearing you may need to add a beam to support the roof weight.
Task: Prepare and paint all internal walls, ceiling and woodwork. Two coats of flat white paint on all ceilings, two coats of low sheen paint on all walls and one undercoat plus one top coat of gloss paint on all woodwork.
Cost: $2,500
Purpose: A real game changer that transforms the property. As one of the most expensive parts of the renovation on the property, painting offers a massive return on your investment. This makes the house feel new, with contemporary colours chosen (the same we choose for all our properties: beige for the walls and white for the ceiling). The colours will appeal to most tenants and match most furniture and decorating tastes.
Task: Remove and replace carpet on new underlay in lounge room, hallway, three bedrooms and robes.
Cost: $2,130
Purpose: As part of the overall modernisation of the property, new carpet in the living areas and bedrooms will complement new paintwork throughout, giving the impression of a new home. It also gives a more homely appeal over floorboards or tiles.
Task: Lay felt backed vinyl over existing vinyl in dining and kitchen.
Cost: $810
Purpose: In line with new paint and carpets in other rooms, new flooring in the kitchen and dining will lift this section of the house. Vinyl was chosen over tiles as it was markedly cheaper and quicker to install – removing a lot of labour costs (and mess). Vinyl chosen also matches carpet and paint colours, giving the property a cohesive look.
Task: Repair and paint external attached rear pergola and fit new shade cloth.
Cost: $450
Purpose: Damage to the pergola was potentially a hazard, with some timber members rotting. Paint was also tired and flaking. There was also no roof covering which made the area impractical in the heat of summer. Through repairing and adding the shade cloth, the rear of the property is now a lot more useable – certainly adds a lot of renter appeal.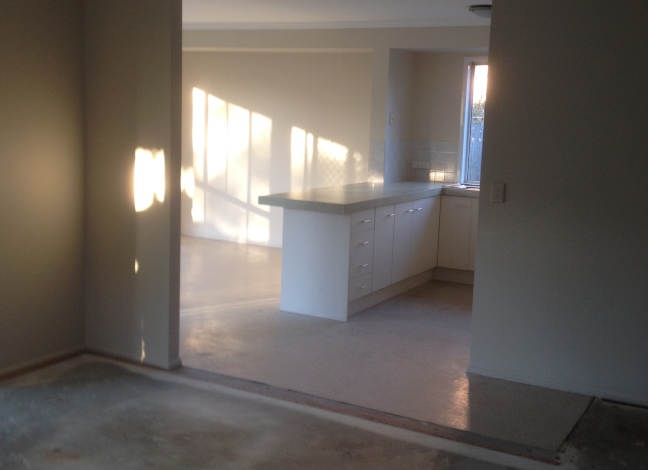 Task: Replace tap fittings on shower, bath, washbasin (main bathroom); washbasin and shower (en suite) as well as kitchen sink.
Cost: $350
Purpose: Existing tapware was tired and dated – old plastic white fittings. The new silver tapware helps modernise the bathroom and takes emphasis away from some of the other more dated components. Also, fittings are new, so from a maintenance angle it should help alleviate call outs for leaking tap washers and the like in the future. In the kitchen, the mixer tap is more practical than the previous hot and cold configuration and helps elevate the kitchen as a whole.
Task: Remove old silicon and re-silicon around bath, vanity and shower.
Cost: $40
Purpose: Mainly focused at maintenance prevention, this will help seal the area and minimise water leaks that cause damage. Also help gives the impression of a cleaner, fresher bathroom.
Task: Remove and replace cracked glass in shower.
Cost: $150
Purpose: A safety-orientated task as the glass has the potential to shatter and injure. Also removes a noticeable eyesore.
Task: Remove old patio frame from front of house and make good the damage.
Cost: $100
Purpose: Patio had no cover, was worn and was damaged – a potential hazard that also dates the property. Could repair it but it doesn't exactly add any true appeal to the property so it's quicker, easier and cheaper simply to remove.