Promoted by DHA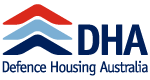 Katalin bought her first Defence Housing Australia (DHA) property in 2004 and now has three to her name.
Proud Hungarians, Katalin and her husband have always been hard workers and had built themselves a comfortable life in Hungary. But when Katalin had her daughter, a better life in Australia beckoned and they immigrated here in the early 90s.
Not long after, she decided to build a property investment portfolio. 'My first investment was a private investment, and there were many frustrations that came with it. So I only bought DHA properties from there on', she says.
'It was the best investment decision of my life because it took the stress out of the whole process and the rent is guaranteed whether there's a tenant or there isn't'.
For Katalin, the whole experience was simple, seamless and stress-free. Added to that, the value and rental income of her DHA investments have increased. 'I always recommend DHA to my friends. They're probably fed up with me already', she laughs.
As the financial driver of the family, Katalin is happy knowing that their financial future is safe and secure no matter what happens. So when a restructuring at her company meant she would be finishing up after 17 years, Katalin's answer was a five-week holiday.  'I went on an overseas holiday with my husband. We haven't travelled together for 25 years. And that was great because while I was overseas I knew the rent was coming in', she chuckles.
Katalin takes comfort from knowing her DHA investments have given her the freedom to take a bit of time out. 'I can afford to stop for a moment, smell the roses and think about the next step', she says.
Learn more about investing with DHA. 
Disclaimer
Attention: All information contained in this article is for general information only and prospective investors should seek independent advice. Investment is subject to DHA's lease terms and conditions of sale. Investors retain some responsibilities and risks, i.e. rent, restoration and market fluctuations. The opinions expressed in this testimonial reflect the experience of this investor as at 28 May 2016.
Be the first to hear the 
latest
 property investment insights