Kitchens are so much more than just a place to prepare food. Today's kitchen is a place for gathering, eating, working, relaxing, entertaining and a thoroughfare.

Blogger: Paul Eslick, Justin Eslick & Geoff Doidge, The Reno Kings

 It not only needs to be versatile and functional but also appealing - real estate surveys show that the kitchen is one of the most important features of the house to potential buyers. And if tenants are happy and comfortable in a house with a functional, appealing and convenient kitchen, that's good for you as the owner.  If a kitchen revamp is in order in your rental property, here are some of the tried and tested rules of how to design a kitchen.
The Golden Triangle  
At the basis of a functional kitchen design is layout. Consider the three most important functions within a kitchen - food preparation, cooking and storage - and you have the three most important areas – sink, stove and fridge. These three areas form a triangle within which the majority of kitchen traffic will flow. If the triangle is too small, people will be tripping over each other. If the triangle is too large, cooking will become very tiring. Ideally the combined distance between the three areas should be less than ten metres.
Traffic flow 
Kitchen designs come in many layouts: L-shaped, U-shaped, galley style and island style. While each one has its own traffic flow patterns, there are two things to consider for any kitchen. For traffic within the kitchen, no major traffic patterns should cross through the golden triangle. For traffic in and out of the kitchen, no door should interfere with the operation of appliances.
Apply yourself to Appliances 
When sorting through which kitchen design ideas are right for you, keep in mind these general rules to maximise the functionality of your appliances. For safety reasons, the cooking surface should not be placed under an operable window. You should allow for at least 40cm of benchspace next to or above the oven, another 40cm on the handle side of the fridge, and another 40cm above, below and adjacent to the handle side of the microwave. The ideal location for the microwave is 10cm below the shoulders of the person who uses it most often. Locate the nearest edge of the dishwasher less than a metre from the nearest edge of the sink.
Think sink
Keeping in mind the golden triangle, the sink should be adjacent to or across from the cooking surface and refrigerator. Allow for benchspace for food preparation on both sides of the sink – at least a metre on one side and half a metre on the other.
Colour. Colour! COLOUR! (But not too much of it.) 
Neutral colours are calming, won't date and they go with anything. Light colours or natural wood can visually enlarge a space. Keep darker colours to the bottom row of cupboards. While dark colours make an impact, they can overwhelm small spaces.
Switch on to lighting 
Good lighting should be functional and but can also be used to add an element of style. Every work surface should be well lit by appropriate lighting. Over-bench lighting is great for your vision, and the atmosphere of the kitchen. Pendants, halogens and ceiling lights with dimmers are all ways of creating a modern, relaxed atmosphere in the kitchen.
Now since it's the Reno Kings rule to keep expenditure on cosmetic renovations on a rental property to a minimum (less than 10% of the purchase price, in fact), it might be impossible to stick to these rules and still come in on budget.  If it's a trade-off between a perfectly designed kitchen and sticking to the budge – stick to the budget!  But at least with these kitchen design rules in mind you'll be able to aim to optimise the kitchen design within the budget that you have.
---
About The Reno Kings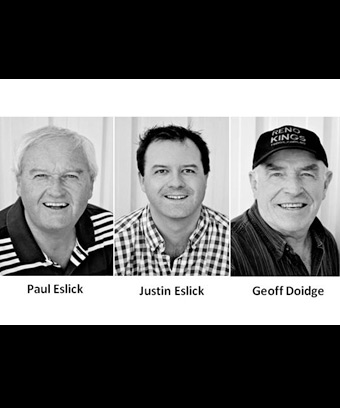 The Reno Kings have been successful in property for over 35 years – and it hasn't been by taking risks!  And for 12 years now they've been showing people from all over Australia how to buy exceptional property deals, cleverly add tremendous value to residential properties through cosmetic renovation and development and to safely and successfully create wealth by building a property portfolio. 
Justin has been teaching alongside Geoff and Paul for the past 5 years and his town planning and professional buying skills are so very powerful that they won't touch a property without Justin first giving it the 'go-ahead'.  Others have come and gone, but the Reno Kings have always been there, powering along, using their safe and secure formulas to build up $40million worth of property. 
Thriving – not just surviving – through 35 odd years of property cycles proves that what they're doing is right!   And that's why they get so many questions from property investors and why the media always go to them for help on property and renovation stories. The Reno Kings are the trusted name in property education.
Top Suburbs
Highest annual price growth - click a suburb below to view full profile data:
latest news