When you're renovating a property there are many different styles of house windows around that have been in use over the years. Windows are an extremely important feature of all character homes, particularly, and under no circumstances should you ever attempt to replace or renew windows with an aluminum type of window in this type of property. 
Blogger: Paul Eslick, Justin Eslick & Geoff Doidge, The Reno Kings

If windows need to be replaced there are casement, double hung and a later style hopper window style that can be considered, and all are generally easily obtainable from secondhand building suppliers. They are usually still in the state of condition when they were removed and would require sanding and filling to restore them to their original presentation. 
If you cannot match up to the existing style of window exactly, new windows can be manufactured to match those; but for a low cost renovation the cost of this is likely to be prohibitive.
All existing windows in a property should work and be trouble free and have secure locks and latches. If necessary, apply lubricant wax to ensure that all parts run freely.   Tenants like security, convenience and comfort, so won't be too impressed with difficult windows that don't function properly – especially if not if they're paying top dollar for rent.
While windows become a focal point both inside and out there are many other factors that need to be taken into consideration if you're renovating. The architectural style of the house, the security the windows provide, the amount of ventilation and light needed for the property and even the amount of privacy required. Thought will also need to be given on how you intend to "dress" them. – whether curtains or blinds.
Here are some of the more common window types, to help you identify what you're dealing with:
Casement windows
These windows are hinged on one side and open outwards like doors, usually opening with a slider bar or crank handle. They were once a very popular option allowing more light and air to enter the house when needed.  They're not the easiest of windows to screen (insect screen or security screen).
Bay Windows
Bay windows are smaller windows that are joined together to form one large viewing area. Usually there are 3 separate windows that make up this window. The centre one is a fixed frame window and the others are double hung or casement depending on the make.
Hopper Windows
Hopper windows are a window where the sash is hinged at the bottom edge and opens outwards. When modern architecture was eliminating eve overhangs, top hinged hopper windows seemed to come into fashion providing their own weather protection and excellent ventilation control.
Sliding Windows
Sliding windows have an opening sash sliding horizontally past a fixed half. These windows are durable and very easy to maintain and clean. While there are many different types of sliding windows, some give you the option of an inbuilt locking system which will also allow you to lock your window even with it being slightly open.
These listed options are just a few of the many different types of windows you'll come across. Whatever type you're dealing with in your home or investment property, it's essential they meet the requirements of letting in light and ventilation, at the same time being able to be dressed to reduce or cut out light and unwanted drafts and also keep out undesirables of all shapes & sizes.
---
About The Reno Kings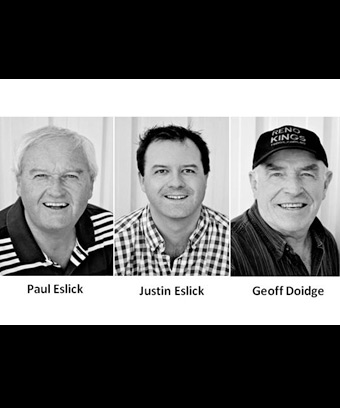 "From over 70yrs combined experience & $40million in property holdings, Reno Kings Paul Eslick, Justin Eslick & Geoff Doidge show you how to make money in property."
The Reno Kings have been successful in property for over 35 years – and it hasn't been by taking risks!  And for 12 years now they've been showing people from all over Australia how to buy exceptional property deals, cleverly add tremendous value to residential properties through cosmetic renovation and development and to safely and successfully create wealth by building a property portfolio. 
Justin has been teaching alongside Geoff and Paul for the past 5 years and his town planning and professional buying skills are so very powerful that they won't touch a property without Justin first giving it the 'go-ahead'.  Others have come and gone, but the Reno Kings have always been there, powering along, using their safe and secure formulas to build up $40million worth of property.  Thriving – not just surviving – through 35 odd years of property cycles proves that what they're doing is right!   And that's why they get so many questions from property investors and why the media always go to them for help on property and renovation stories.  The Reno Kings are the trusted name in property education.
Top Suburbs
Highest annual price growth - click a suburb below to view full profile data:
latest news